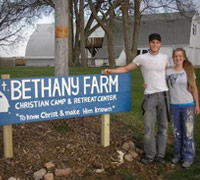 By Casey and Natalie
There was a time in my life when, if I had $200, I would look for something that cost $200 so I could spend it. When I met my wife, Natalie, I knew that had to change, but I didn't know where to begin.
In December of 2008, we were married the same day as my graduation ceremony from Bible college. Soon after that, an opportunity arose to work at a small Bible camp on a farm in Iowa. The income was entirely based on the support of individuals, so it was very unpredictable. The week following our honeymoon, we moved to the farm.
We set off from California, and the car was loaded with all of our belongings—including about $10,000 in debt. Among the many wedding gifts we received was a Financial Peace University (FPU) membership, and the classes in Iowa were to begin the week of our arrival. We began class in January of 2009 and completed the course. Every time I listened to the CDs and watched the DVDs in and out of class, I felt like I could finally have financial self control!

This can be YOUR story! Get started with a Ramsey+ free trial.
With gazelle intensity, we followed the FPU formula to a T. Our first few budget meetings were difficult, especially since we had no idea what our income would look like each month. But by the third month, we really got the hang of things.
We started the debt snowball, even though it was a meager beginning. We had two student loans and one car payment. We paid off the small student loan first, and then we paid the car off by June (a year from the date my wife bought it). We were paying close to $400 dollars a month toward debt by then, always pushing extra money toward the debt.
We discovered something in the first four months: A budget does not make you a slave; it makes you free! We found that we could easily stay within our planned budget each month and use any extra we earned to keep the debt snowball rolling. We didn't have to worry about how we would pay for food, gas, bills, or even fun—the budget did it for us!
Then in December 2009, something amazing happened that seemed like God was saying, "Well done, faithful stewards of my money." We had $2,500 of debt left and were planning to pay it off the next year. At the end of the month, we received an additional support check for a little over $2,000! When we combined what we were ready to pay the next month with the check, we were able to pay off the remainder of the student loan! We did what we thought was an appropriate debt-free dance to celebrate.
Thank you, God, for your extraordinary blessings and provision, and thank you, Dave, for changing our lives. We tell everyone we meet about FPU and about the excitement of living by faith!
Read more success stories and submit your own!