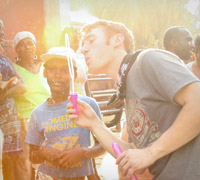 One of the most motivating things about becoming debt-free is thinking about what you can do with your newfound freedom. When you imagine yourself debt free, what do you think of? Do you dream of starting your own business? Buying groceries and furniture for a single mom? Going on a vacation to Hawaii? Donating money to a ministry? Everyone has dreams about their future, and once you're debt-free, those dreams can become more of a reality.
Dave encourages his team to create goals for their future. Here are some of their dreams.
Chris, a graphic artist, and his wife are in the process of adopting their second child. They adopted their first son over five years ago from Russia. They are now debt-free and working on the final details for adopting their second son from China. "We wanted to adopt again to grow our family. Plus, as Christians, it's what we're called to do—take care of the widows and orphans."

Be confident about your retirement. Find an investing pro in your area today.
IT Support Team Lead Chris, and his wife are almost debt-free. They have a dream of doing short-term missions whenever the need arises. "We look forward to being debt-free and being able to go on a mission trip when God calls us without having to worry about the money aspect."
When Oksana, an executive assistant, became debt-free, she immediately quit her second job. A few days after she and her husband paid off their last bill, they were able to help a single mom purchase some much-needed items. "It was an incredible feeling to be able to help her out and not feel it in our budget."
FPU Church Advisor Dan has been debt-free for three years. Since then, he and his wife have taken three debt-free cruises and plan on continuing to take a yearly cruise. "We want to go every year. We've been to the Caribbean twice and the Bahamas once so far."
Penny, an accounting assistant, plans on taking a yearly mission trip when she is debt-free. "I've never had enough room in my budget to take a mission trip. Once I pay off all my debt, I want to go on multiple mission trips. I've always wanted to go, but I've never been able to afford it."
The VP of Internet Business and Technology, Tony, has been debt-free for eight years. He and his family are working on paying off their mortgage by spring 2011. When they became debt-free, they did some serious interior decorating on their house—hardwood floors, paint, custom window treatments—the whole nine yards. In the past seven years, he and his wife have paid cash for four different cars, upgrading each time. "It feels so great being debt-free and not having to worry about payments each month."
Vicky, Creative Solutions Team Assistant, plans on working for herself and doing art full time once she's debt-free. "One of the biggest reasons why I want to work for myself is to have the ability to get up and serve whenever there is a need."
Whatever debt-free dreams you have, remember to think about those goals regularly to motivate yourself to get out of debt as fast as possible. The sooner you are out of debt, the quicker you can start making your dreams a reality! Like Dave says, live like no one else, so later you can live like no one else.
What are your dreams? Do you have a plan for reaching them? Financial Peace University is a 13-week program that will teach you how to handle your money so you can start accomplishing your dreams. Find your class today!