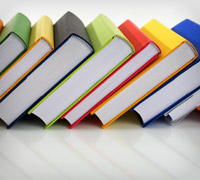 Whether you made a goal to read more books this year, or you just want to cross some titles off your book list, summer is a great time to catch up on reading. Dave constantly talks about the importance of reading and how it can change your life.
Charlie "Tremendous" Jones said, "You are the same today as you'll be in five years except for two things: the books you read and the people you meet." The more you read, the more you learn. Dave challenges his team to read whenever they can because he believes that information affects behavior. Reading develops leadership qualities and is a great way to educate yourself.
Did you know that the average millionaire reads a book a month? That may not seem like a huge amount of books read over the course of a year, but most Americans haven't read a nonfiction book since their high school or college graduation. Do something out of the ordinary this summer—get into a book!
But don't just go for the latest best-seller on the fiction shelf; think strategically. Try picking up a biography about an influential person or a how-to book on something you've always been curious about. If you want to improve your marriage and parenting skills, seek out books that will help you do that. Check out what some of the leaders around Dave's office consider their top reads:
Boundaries by Dr. Henry Cloud and Dr. John Townsend
"This is personally one of my favorite books and one of the most-recommended by our team. It will help you set healthy boundaries in any relationship and help others to do the same."
—Barry Hardy, Customer Care Team Leader
Tribes by Seth Godin
"This book has an amazing set of tools for leadership. I learned that leaders initiate instead of react or respond. Good stuff!"
—Suzanne Simms, Vice President of Affiliate Relations
QBQ! The Question Behind the Question by John G. Miller
"This is an easy read, but it will have a lifelong impact on you. It reinforces the importance of personal accountability, which we all need!"
—Steve NeSmith, Director of Online Content, Email and Social Media
Encourage your kids to read this summer, too! See what kind of summer reading programs are offered at your local library that will help encourage the kiddos. Teaching your kids early the importance of reading will benefit them in many other areas throughout life. Check out Dave's books for kids that will entertain and teach them valuable lessons about money.
For more ideas, check out Dave's recommended reading list, which includes books about leadership, marriage, business and personal growth. No matter what topic you are looking to brush up on, there's a book out there for your specific interest. For anyone wanting to learn how to control their money and change their family tree, Dave's New York Times best-seller The Total Money Makeover is a great place to start. When you're finished with the book, pass it on to your neighbor or someone you met while on vacation!
Remember, leaders are readers, regardless of age or profession. What kind of leader do you want to be in five years? Start becoming it today!
Reading Changes Your Life
Are you interested in exploring more must read books? Join the Ramsey Book Club today to get transformative books you won't be able to put down.
A 12-month membership to the club includes a must read book like Boundaries, an exclusive study guide and access to our Facebook community where you can watch live discussions with the author.
Are you ready to change your life for the better? Join the Ramsey book club today!