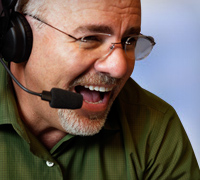 Sometimes, a subject matter just gets under your skin. It could be how poorly the government handles money or how people need to act like adults. You want to say something but don't want to offend anyone. Good thing Dave doesn't have that problem!
We searched the archives and dug up some of Dave's most memorable rants from 2010:
Lottos and Losers
In this rant, a Twitter listener asks why Dave is against playing the lottery. Dave explains and goes off about the "little man can't get ahead" mentality. Let's just say he's not a fan of it. Listen now.
A Free Vacation
This one might have gotten the strongest reaction from Dave all year. He reads an article from the Ottawa Citizen on the European Union's declaration that vacationing is a human right. You can probably guess where he's going with this. Listen now.
Single Stocks Are Silly
Just about everyone knows that buying stock in one company is risky with names like Enron, WorldCom and BP out there. A listener has a question about buying stocks, and Dave is happy to talk about the reasons why you should stay away from them … and then some. Listen now.
Big Man, Little Man
With the way men are portrayed in the movies and on TV, you'd almost think that just being a guy means you get points deducted. But it's no reason to be a wimp. Dave rants about the little-boy mentality among men in our culture today, how masculinity has become un-cool, and why it shouldn't be. Listen now.
Sad Meal
It just might be the most ridiculous lawsuit you've ever heard of, and it riles Dave up pretty good. He reads an article about the "Happy Meal" legal action going against McDonald's for placing toys in their kids' meals. The nerve! Listen now.
No topic is off limits for one of Dave's legendary rants!