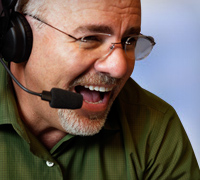 The Dave Ramsey Show is service-oriented talk radio. As Dave says every day, it's about your life and your money. People call in daily with questions about relationships, parenting and careers. So, Dave invites experts from different fields to talk about how to get the most out of those areas of life.
Let's take a look back at some of Dave's most noteworthy radio show guests in 2010 and revisit their wisdom.
John Miller
Dave's thoughts about personal responsibility line up closely with John Miller's. So well, in fact, that Dave made one of John's books, QBQ: The Question Behind The Question, required reading for his team! This year on the show, John discussed more of his thoughts noted in Outstanding: 47 Ways to Make Your Organization Exceptional.
Hear Dave talk with John Miller.
Dan Miller
Why waste your life away going to a dead-end job you dread every day? Working should be about what you love and enjoy. Dave welcomed his good friend, Dan Miller, author of 48 Days to the Work You Love, to discuss careers, doing what you love, and how the traditional work model is not the way things work nowadays.
Hear Dave talk with Dan Miller.
Tony Dungy
"Servant leadership" is hard to find these days, but those who know it is the only way to lead are those who flourish. Former NFL head coach Tony Dungy is one of these people. He joined Dave on air to discuss leadership principles from his new book, The Mentor Leader.
Hear Dave talk with Tony Dungy.
Max Lucado
The Christmas season is not the only time we should be focused on giving. Dave and accomplished author Max Lucado talked about being in touch with people's needs in everyday life and finding out how to help others by looking at "what pulls at your heart." This is truly how you can Outlive Your Life.
Hear Dave talk with Max Lucado.
Dr. Meg Meeker
Dave is always honored to welcome one of the leading experts on parenting, Dr. Meg Meeker, on his radio show. The author of Boys Should Be Boys enlightened all who listened on what it means to be a real father and how vital it is for a family to have a dad who is ready to step up and meet life's challenges.
Hear Dave talk with Dr. Meeker.
It's a special occasion for Dave to have a guest on his show, so it is a real treat to have these people share their time and advice with us!