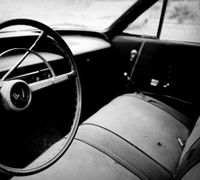 By Jon Acuff
In the midst of bootcamping my money, I had to catch a flight out of Nashville. If you've never been to the Nashville airport, it's kind of like entering a labyrinth. To get to the parking lot, you have to drive all the way to the terminals, wave to people who are landing, and then loop back around in a crazy circle. The signs aren't clear and read more like a riddle from a Sphinx than a helpful geographical guide.
As I wrestled with the Nicholas Cage-sized caper my parking experience had become, I thought about ditching it all and just going right to the most expensive lot. The priciest option, whether it's parking or clothing, is never difficult to find. That's always displayed right up front with the utmost clarity.
But you sometimes have to dig in bins that seem to have been arranged by belligerent monkeys to find bargains. There in the Nashville airport parking lot, I didn't feel like digging. I wanted it to be easy and instant. I wanted to find a space right now.
Just as I was starting to listen to that voice, I felt another one pipe up. It was quiet at first, like Obi Wan trying to guide a young Luke Skywalker, and it seemed to come from my passenger seat. It was Dave Ramsey, and he was saying softly, "Control your money, don't let it control you. Control your money, don't let it control you."
I had to laugh. I'd read Dave's words so often that when faced with a financial decision, they just popped up. As if triggered by the appearance of a dollar sign, Dave was riding shotgun with me.
It wasn't a major purchase that day. I didn't feel like fictional Dave was forcing me to make a difficult decision. I felt like he was a friend reminding me of a commitment I had made to myself. A commitment to not take the easy way out and pay for it later. A commitment to work hard. A commitment to find the economy parking lot even if it meant driving around for three more minutes.
So I did, and I found the economy lot after a few more laps. And when I did, I looked up at the sky like Simba seeing his James Earl Jones-voiced father, Mufassa, and I said, "Thank you."
Okay, I didn't pull a Lion King in the parking lot, but I was appreciative that good wisdom refuses to stay quiet. I just thought it might be nice to end this article with a bit of drama.
Has this ever happened to you?
If you've ever wondered how many blue shirts Dave owns, why women make each other buy bridesmaid dresses, and how to baby-proof your house from 27-year-olds, you'll love Jon Acuff's brand-new gift book! Get it now!
Jon Acuff is the founder of stuffchristianslike.net and the author of the book Stuff Christians Like. His insight into everything from church, to advertising, to money, to life is as funny as it is true. In the last 12 years, he's written branding for companies such as The Home Depot, Chick-fil-A, Staples, Bose and many others. He's a contributor to CNN.com , speaks nationally on the subject of social media, and joined the Dave Ramsey team in 2010. He lives with his wife and two daughters in Nashville, Tennessee.