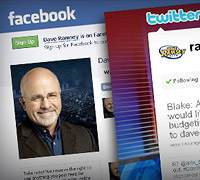 Tweet, tweet! Dave has enjoyed hearing from you and responding to comments and questions throughout the year on Twitter. Here are some of the highlights from Dave's personal Twitter in 2011.
25% of Americans have a negative net worth. If you have $10 and no debt you have more wealth than the bottom 25% combined. #occupythat!
Amazed at how many people say they have goals in life but never give themselves a deadline. Recipe for failure. #elbook
Time to refinance!!!! If you are keeping your home and can get these 3.4% rates, DO IT TODAY! I recommend:
If We the People had back all the unproductive hours we spend dealing with Gov. Twerps unemployment and the economy would be healed.
Friend Dan Miller just sent me this, "When you give you stretch your soul." Stretching is awesome, be a giver.
Heading to Knoxville from San Antonio to watch my Vols take care of business with Vandy. #GoVols
Guy just proposed in our lobby before doing his debt free scream. She said YES!!!
Some people are so open minded that their brains fell out.
Jesus answered, "I am the way and the truth and the life. No one comes to the Father except through me. John 14:6
Today I am going to Occupy UT Football and tomorrow I will Occupy Titans Football. Two wins! Love the fall.
RT @Lostsheepnomore:@DaveRamsey I'd say this is a good representation of most corporate leadership bit.ly/tifkq6
We are celebrating 500 radio stations carrying The Dave Ramsey Show! Thanks America!
RT @Sprdave85: @daveramsey Hi Guys.. What's the Baker Street reference on your show opening?//Loved it when I was a teen.
If u dont like how a co. behaves dont do business w them. But dont protest them while wearing & using their products. Makes YOU look stupid
I've started every day for 20 yrs writing & prioritizing my to-do list for the day. The busier you get, the more important this is! #elbook
Follow him now to ask questions and get behind-the-scenes info throughout 2012.