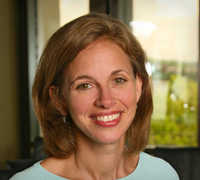 Jen Sievertsen is a multi-tasker. In the window of time she's been able to carve out of her schedule for this interview, she easily shifts from discussing social media strategy and the value of great content on a business website while managing to fit in a quick phone conversation with her daughter about brownies—all without missing a beat.
Her ability to move seamlessly from big-picture concepts to real-life implementation without losing that human touch launched her from Director of Internet Marketing to Chief Marketing Officer at Dave's company in less than a year.
Staying on Top in a Changing World
Today's marketing strategies don't follow yesterday's rules, and Jen makes a point of studying the trends to see what works. The evolution of social media in marketing is dominating that discussion.
"People are more connected today in general," she explained. "They expect to be more connected to you and your company. It's not just about connecting with the people they know anymore."
Jen points to Starbucks as an example of a company that's used social media well.
"Starbucks has 20 million Facebook fans," she said. "That's just unreal! They have lots of customer interaction, and they welcome customer input. Recently, when they changed their logo, their customers spoke up because they feel like they own a piece of the company. They've truly built an online community."
Great Content Creates Great Community
But social media isn't all about Facebook and Twitter, Jen said. Content is king when it comes to building community with your customers through social media. Newsletters and blogs are a great way to deliver quality content.
"Crystal Paine with MoneySavingMom.com has tons of content on her blog," Jen said. "It's all helpful to the people reading her blog so they want to plug into her."
MoneySavingMom.com is a couponing website that averages 60,000–85,000 visitors per day. Crystal not only hooks her readers up with great deals, she also posts information about managing money, do-it-yourself projects, recipes and more.
"Even if you don't follow her blog, she provides great information on Twitter and Facebook page. She's the whole package," Jen noted.
Experience You Can Learn From
Jen's team has done a great job of building community with Dave Ramsey fans as well. From expanding and improving the content on the site to creating special landing pages that allow fans to follow a live event to live online chats with guests, Dave's fans can find great content online as well as on The Dave Ramsey Show.
Entrepreneurs and business leaders who attend the EntreLeadership Master Series can get Jen's insights first-hand. She'll be part of a question-and-answer panel and will be available for one-on-one consultations at the week-long event.
EntreLeadership Master Series is Dave's world-class business and leadership event where Dave personally teaches the principles he used to build his business. Get more information about the Master Series event!
In 20 years, Dave has grown his company to a national winning brand with more than 300 team members who have impacted millions of lives. His company has been named one of the "Best Places to Work in Nashville" four years in a row. EntreLeadership is how he's done it and how you can do it too. Get your copy of the new book now!