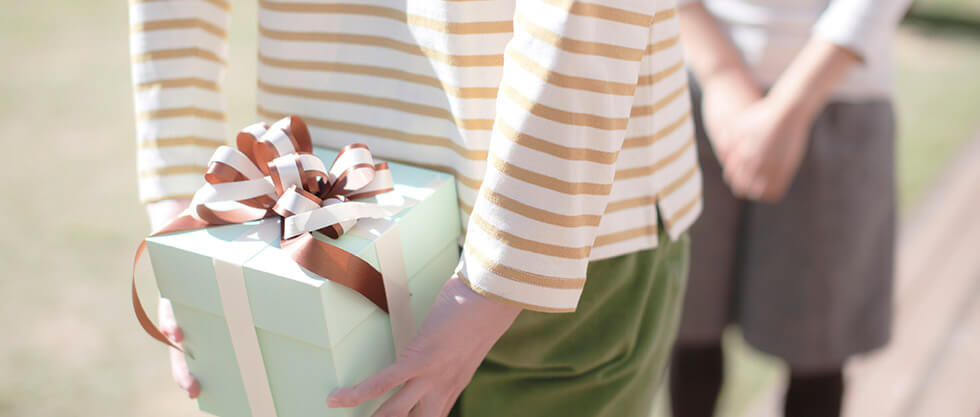 Your best friend just had a birthday. Your niece got married. A co-worker had a baby.
What can you give them that's meaningful—something more than a few towels or a Starbucks gift card? If you're looking to take your gift giving to the next level, we've got you covered.
This little gift guide from the Dave Ramsey store will help you find the perfect something to inject a little hope into someone's life.
For Newlyweds
They just got plates, silverware and bath towels. Now that they've become one, what they really need is to be on the same page with money. This is crucial for every married couple, especially newlyweds! Here are two great gift ideas. Buy a membership to Financial Peace University. They can take a class in their area and learn money habits that will last a lifetime. Or reserve seats for the couple at one of our live events in 2016. Talk about a memorable date night!
For New Parents
The new baby is so adorable—and so time-consuming! Mom and Dad don't have all the time in the world anymore, so they're learning to make the most of the time they do have. You can't give them more sleep, but you can give them Dave and his daughter Rachel Cruze's best-selling book, Smart Money Smart Kids. They can read the book now and keep it on their bookshelf as a reference for years to come.
Bonus Idea: Also consider opening a savings account in the baby's name. That would be a great jump-start for college!
For the Person Who Has Everything
Maybe they have every gadget and gizmo under the sun. Bet they don't have this! Get the Starter Special and help them get started on Dave's plan with his number-one product bundle. It includes some great getting-out-of-debt staples, like The Total Money Makeover, The Guide to Budgeting PDF e-book and the Dumping Debt DVD. It's the perfect way to start a life of being smart with money.
For the Person Who Tells You Not to Get Them Anything
We all have one on our gift lists. They tell you not to get them anything, but they're disappointed when you don't. It's a trap! Here are two ways to avoid it. Get Dave Ramsey's The Total Money Makeover. It offers money wisdom on everything from dumping debt to the importance of saving. Or consider the Starter Envelope System. It's the perfect way to help them control what they spend on a daily basis.
Bonus Idea: If they really don't want anything, you could always donate to their favorite charity. Can't go wrong there!
For the Business Leader With All the Ideas
He's got a closet full of ties. She doesn't need another scarf. How about EntreLeadership, Dave's number-onebest-seller on business? It's how to win in business based on 20 years in the trenches, and it's how you can win in gift giving.
For High School Grads and College Freshmen
Bless their hearts, they don't have a clue what they're in for! The working world is a harsh one, and there are all kinds of spending opportunities calling their names. The Graduate's Survival Guide is presented in a fun and easy Q-and-A format and will quickly become a trusted companion. No incoming college freshman should leave home without this gift.
For the Kids Who Have Every Toy
Don't be Aunt and Uncle Scrooge this Christmas. Set little (insert your niece or nephew's name here) up for a lifetime of success. Choose the newly revamped Financial Peace Jr. Adventure Pack! They'll have fun learning money principles and values that will form a solid foundation for the rest of their lives.
For the Growing Family
Help that growing family change their family tree with The Legacy Journey membership. It's available in class and home study formats. Both versions come with a keepsake wooden Legacy Box for life's important documents, access to a free will and a whole lot more. The home study version includes eight DVDs. They'll learn how to leave more than just their names behind. There's also a Legacy Journey book which you can purchase separately.
Bonus Idea: Take a new or old photo and put it in a homemade frame. Photos bring back great memories and make thoughtful gifts!
For the Person With Questions About Retirement
Everyone is going to retire someday—everyone from your 60-year-old Uncle Bill to your 30-year-old cousin Jason. In his new number-one best seller, Retire Inspired, Chris Hogan teaches that retirement isn't just an age; it's a financial number. If Uncle Bill isn't much of a reader, you can always send him to one of Chris Hogan's Retire Inspired live events. Check out his spring schedule and look for more events in the fall!
There they are—some practical, meaningful and affordable gift ideas. Make your purchases, then sit back and relax knowing someone will unwrap more than just a new tie—they'll receive the gift of hope!
What's your favorite Dave Ramsey product to give as a gift?