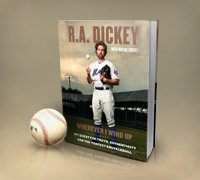 Recently on The Dave Ramsey Show, Dave had the opportunity to interview R.A. Dickey, an all-star pitcher from the New York Mets—who also happens to be from Nashville.
He recently made news for becoming the first pitcher in Major League history to make five straight starts with no earned runs while also striking out at least eight batters in each game.
Off the field, R.A. recently wrote an autobiography titled Where I Wind Up: My Quest for Truth, Authenticity, and the Perfect Knuckleball. Dave talked with R.A. about his life as a professional athlete, the book and his volunteer work.
Some highlights from the interview:
On thoughts of giving up
Even in my darkest moments, when I contemplated giving up and finding a new career, I had always hoped for something like this [reaching the Major League]. And I never gave up that hope.
On his support system
I am the product of a lot of people who have loved me well. Everyone from my wife to the coaches who believed in me to learning to love myself. I had a lot of fears about trying to commit to the knuckleball full-time, and I did it in 2005. Basically, surrendering who I once was and trying to become somebody new. So I've had a lot of great people invest in me.
On why he wrote a book
I felt a real conviction that God had given me a narrative worth sharing. And he gave me the equipment to process it in a way that I could articulate it. I've always been drawn to the written word. I wanted to write a book at some point in my life, and I think God just picked me up by the ears and said, "This is where I want you to begin." And so I started writing on an air mattress in Tacoma, Washington, when I was in the minor leagues there.
On the pivotal moment in his career
In 2006, my wife and I were going through a lot of stuff. I just didn't know what I was going to do. She looked at me and said, "I don't want you to have any regrets, and I believe in you, and I believe you can do it." So I became a member of the Nashville Sounds, and figured some things out, and that was the moment when I thought I had a chance.
On his recent success
Everybody asks the same question: Why now? The only magic trick is hard work. There's no replacement. I've committed myself to this craft for a long time now. And I've diligently pursued trying to hone it. Sure you figure some things out along the way, but it's a very organic process that begins with taking the first step toward working hard.
On climbing Mt. Kilamanjaro and charity work
I've always wanted to [climb Mt. Kilimanjaro]. God hooked me up with The Bombay Teen Challenge, which is an organization that rescues girls and young women from sex slavery and human trafficking. We decided we were going to partner together, and we ended up raising over $100,000 for that ministry. All the while, we got to experience God's handiwork from 19,400 feet, which is the highest peak in Africa.
On his baseball ministry
Honoring the Father is a baseball ministry that's concentrated mostly in Latin America right now. We take baseball equipment and medical supplies over to Cuba, Venezuela and Dominican Republic, into those very dilapidated communities that don't have anything. And we're able to share the gospel while we're there.