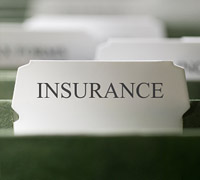 In the last few months, a new insurance option has popped up and caused quite a stir among Dave Ramsey fans and followers.
The product is called universal/term life insurance, and it's being offered as an alternative to traditional term life policies. Anyone who has listened to Dave discuss life insurance knows he never recommends cash-value type policies like universal life plans. So a lot of people who received information about the universal/term insurance naturally balked at this new combo.
But you don't have to worry about getting roped into the wrong type of coverage. Dave has examined the universal/term life insurance policies offered through Zander Insurance, and they have earned his endorsement as a really good, cost-effective alternative to traditional term life coverage.
"Universal/term plans offer guaranteed level premiums and a guaranteed death benefit," Dave said. "The guarantees, flexibility and benefits are similar to traditional term life insurance plans, and they do not build cash value or act as an investment."
Get To Know Universal/Term Life Insurance
Of course, Dave also says never to buy anything you don't understand, so here's the lowdown on where universal/term insurance came from and how it works:
Insurance companies handle their customer's premiums in two ways. Part they keep as a reserve to pay claims—like an emergency fund. The rest is invested to cover their costs of doing business. In late 2008 and into 2009, the bottom fell out of the stock market, and the returns on their investments no longer covered their costs. To pay the bills, the insurance companies had to make a choice—cut costs or raise premiums.
The term life market is aggressively priced, so to avoid a premium hike, some companies introduced universal/term, a hybrid that offered the same coverage without the hike.
This works because the reserve funds we mentioned before are regulated differently for term life and universal life policies. By taking a universal policy and stripping out all dumb stuff like premium overpayments and cash-value options and then adding the premium guarantees and benefits of a term life policy, the companies could now offer a universal policy that acts like a term policy—universal/term.
What's Right For You?
As you shop life insurance policies, you should know not every universal/term policy is cheaper than traditional term. A lot depends on the person, their age, medical and family history, etc., so it's wise to shop both. If you already have a term life policy, you might check into a universal/term policy to see if you can get the same coverage for less.
If you want to take a look at universal/term life insurance, visit the only company Dave recommends for life insurance, Zander Insurance Group.
An Update From Zander
By Jeff Zander (Posted April 5, 2011)
"The decision to offer Dave's listeners universal/term life insurance plans was not made lightly. Initially, Zander Insurance decided it would not offer any universal/term plans in order to avoid conflict with Dave's advice to steer clear of all types of cash value plans, including universal life. The policy language is also confusing and leads to a lot of misunderstanding.
"However, as noted in the article above, the life insurance market has changed. When four of the top term life insurance companies re-designed their plans to include universal/term, it became clear that we were not offering our clients the lowest cost term-like plans available.
"Dave and I examined these policies for months before coming to our conclusion. Like a term life policy, universal/term policies include guaranteed premiums and benefits for the time period selected, and the savings option is never utilized. For these reasons, Dave and I felt that offering universal/term when the price was competitive would allow our clients to choose from the most affordable coverage options possible. Dave's advice to never use a life insurance policy as a savings or investment tool has not changed, and we continue to honor our commitment to never offer a program of this nature.
"We've used several avenues to tell our clients about universal term policies and their benefits. We have posted universal/term information on our website and online quote service and have mailed additional information to our clients. We also notify our clients when they have purchased a universal/term policy. This article was an additional attempt to reach Dave's listeners and explain the background and value of these new plans.
"We welcome feedback from our clients. It is the most important tool we have to measure our success. We will use your comments as we continue to review our processes and make sure our communication is as effective as possible."