Our Favorite Cyber Monday Gifts
Happy Cyber Monday! It's the day of the year when every online retailer on the planet is trying to sell you something . . . anything.
And maybe you're torn. You want to take advantage of all these online deals, but you hear Dave's voice in the back of your head saying, "Buyer beware! Don't fall for their marketing tricks!"
Cyber Monday is good . . . if you have the cash
Let's clear something up: We want you to save money! And if retailers want to lose money so you can score major deals on gifts you were already planning (and budgeting) to buy for Christmas, let them! Getting a major discount is pretty amazing . . . as long as you have the cash on hand and room in your budget.
That's why we're joining the Cyber Monday craze by offering our bestselling books, courses and products for everyone on your Christmas list at ridiculously reduced prices. So if you've got it budgeted, take the deal!
Ramsey Store Online Deals for Cyber Monday
Financial Peace University Turnaround Bundle $129 (30% off)
It's time to destroy debt, create a solid game plan for your future, and live like no one else. Are you ready? The Turnaround Bundle comes with Financial Peace University materials plus an annual membership, The Total Money Makeover audiobook, The Legacy Journey e-book, EveryDollar's Guide to Budgeting PDF, and an EveryDollar Plus subscription. Now that's a lot of life-change for your buck right there!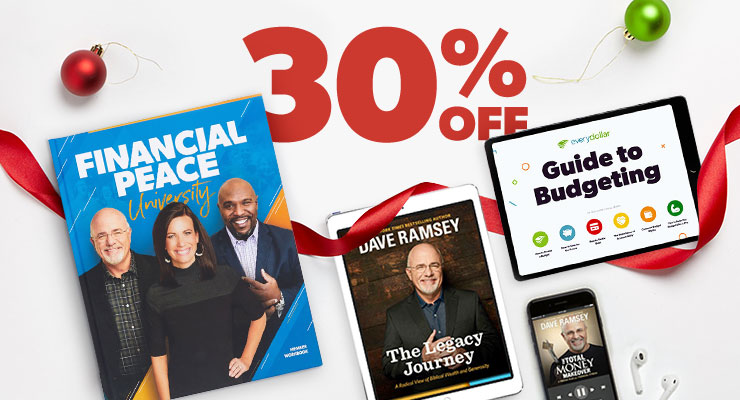 Financial Peace University Money & Marriage Bundle $139.99 (Cyber Monday Exclusive!)
What's the number one thing couples fight over? You guessed it—money. But it doesn't have to be that way! Learn how to tackle your money like the team you are. The Money & Marriage Bundle gives you access to the Financial Peace University course and the annual membership, plus we're throwing in extras like The Good Fight by Drs. Les and Leslie Parrott, along with their Deep Love Assessment, the Conversation Starters for Couples PDF and a Spender/Saver Quiz.
Let these tools help the two of you get on the same page when it comes to money so you can work toward your goals together. And who knows? You might be pleasantly surprised by how much you actually end up enjoying your money chats.

The Total Money Makeover + Workbook $19.99 (55% off)
Are you ready to change your financial future but don't know where to start? Then you need The Total Money Makeover + Workbook. Through Dave's 7 Baby Steps, you'll learn how to create a budget, get out of debt, and make a plan for your money. And with the workbook in hand, you can track your progress and stay encouraged along the way. This book has sold more than 7 million copies! Get started with the plan that works!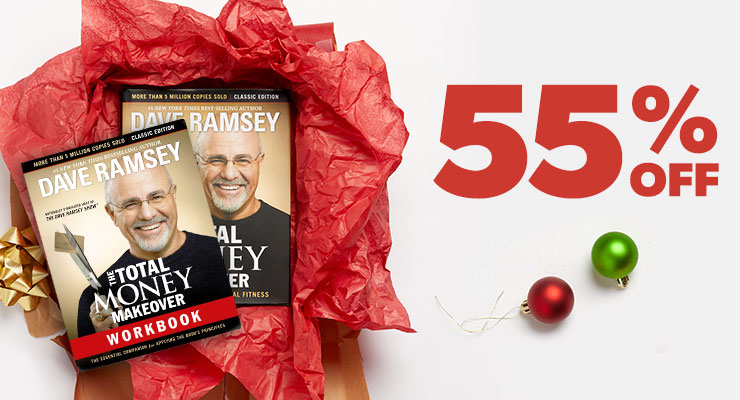 The College 101 Bundle $28.99 (33% off)
Get your young adult ready for all the important life decisions coming their way with the College 101 Bundle (and throw in a few packages of Ramen noodles for good measure). This bundle comes with Anthony ONeal's brand-new book, Debt-Free Degree, plus The Graduate Survival Guide.
Navigating the tricky world of early adulthood can be rough—especially with colleges breathing down your neck to take out student loans. But there's a better way, and your grad will learn it in these books!

The Baby Steps Bundle $28.99 (72% off)
Get ready to kick debt in the face and create fresh money habits with the new Baby Steps Bundle! You'll get Dave's #1 New York Times bestseller The Total Money Makeover, the Retire Inspired audiobook, the Love Your Life, Not Theirs audiobook, the Starter Envelope System, EveryDollar's Guide to Budgeting PDF, and a free one-month subscription to our budgeting tool, EveryDollar Plus. Gift this bundle and you'll be helping the lucky recipient work those Baby Steps like no one else!

Adventure Pack $42.99 (66% off)
Do you want to raise money-smart kids? Our Adventure Pack can help you do just that! The bundle comes with Financial Peace Jr., Junior's Smart Saver Bank and Junior's Adventures Storytime Book Set. These three items make it easy to teach your kids how to spend, save and give. And you'll get all the tools you need to make learning about money actually fun. Imagine that!
The Adventure Pack even includes a chore chart for your kids to track their progress as they work toward reaching their goals (like getting that new video game). It's a great way to show your kids how money is earned through work. That Barbie Dreamhouse didn't show up of out thin air, kid.

Deluxe Envelope Systems for Two $32.99 (53% off)
Who's the spender and who's the saver in your family? No matter which camp you fall into, remember: Cash is king! Create better spending habits by using our Deluxe Envelope Systems for Two.
If you really want to know how it feels to see money leave your pocket, start paying for things in cold, hard cash. It's true. Paying for things with actual bills has an uncanny way of getting you to stick to your budget. Start paying for stuff with cash, and you'll see that Grandma's ways of handling money still work.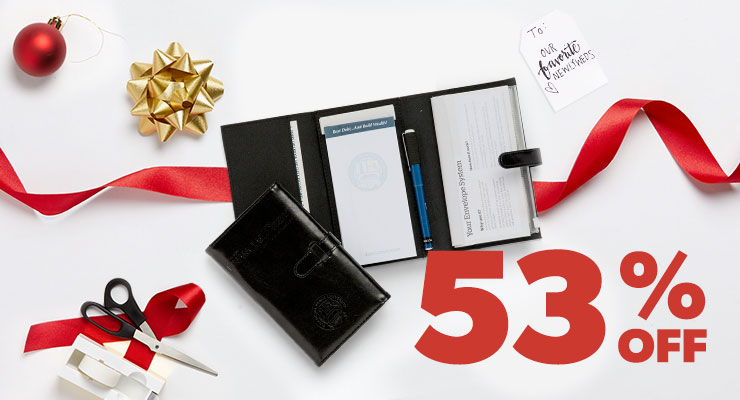 Ramsey Smart Conference DVD Set $29.99 (40% off)
With the Ramsey Smart Conference DVD Set, it's like having a front-row seat at this life-changing event—right from the comfort of your own couch! Watch as some of America's top experts in money, personal development and retirement take the stage to tackle the tough questions.
These three DVDs come with 4.5 hours of content from world-renowned speakers like Dave Ramsey, Rachel Cruze, Chris Hogan, Christy Wright, Anthony ONeal, Dr. Meg Meeker, Dr. Les Parrott and Dr. Henry Cloud. Plus, you'll get two workbooks so you can follow along with these power-packed lessons.

All-in-One Value Pack $93 (64% off)
This one here is the king of all bundles! The All-in-One Value Pack has you covered from Dave to Hogan and everything in between. You'll get eight Ramsey books in the bundle: The Total Money Makeover + Workbook, EntreLeadership, Dave Ramsey's Complete Guide to Money, The Legacy Journey, Retire Inspired, Smart Money Smart Kids, The Graduate Survival Guide and Love Your Life, Not Theirs. Plus, you'll get the Deluxe Envelope System, EveryDollar's Guide to Budgeting PDF and Dave Ramsey's Guide to the Envelope System PDF.

With all of that in your "how to handle money" arsenal, you'll be set up for success. And since this bundle has something for everyone, it has the potential to cover nine people on your gift list!
Make a Difference This Cyber Monday
Don't waste your money buying useless junk just because it's on sale and you need to check your brother-in-law off your list. Instead, buy something that's going to change a life—and because it's on sale too. Win-win! Now that's gift giving that will fill you with long-lasting cheer.