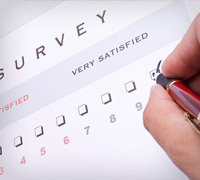 Starting a new business can be difficult, especially when your company will compete against larger, well-established companies. So how do you compete? How can you convince customers to invest in your business?
Bottom line: It starts with service. When you hire quality people who are committed to your vision—who actually care about their jobs and aren't just working for a paycheck—that attitude will show in their service.
Through that attention to service, you'll develop better relationships with your customers—real relationships in which you know their kids' names, where they went on vacation last year, and when their anniversary is.
Keep that type of information in your database. And then use it. Send them a card on their birthday or flowers on their anniversary. Do something special to participate in your customers' lives in ways that your competition won't.
To win, you need higher levels of personal interaction. Customers appreciate that personal touch. It's a lost art in today's world of massive corporations where 20-minute hold times are the norm. Check out how one sub shop manager treated his customers (including Dave Ramsey) with outstanding service.
Don't forget about price. To get your foot in the door, you'll likely need a better rate. And common sense should tell you that customer service will only carry you so far if you don't have a quality product. But to consistently win in business, you need great service. Connect with your customers at a relational level, and not only will they keep coming back, they'll tell their friends about your company.
Beating a big business is not that hard. Usually, it just boils down to putting quality people on your staff, team members who aren't just working a J-O-B.
Find people who share your vision and work ethic. Take care of that and you'll do just fine.
Learn more from Dave about growing your business the right way at his business conference, EntreLeadership.