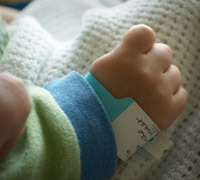 Don't you think you'd know if your child had a mortgage, credit-card debt or maybe some unpaid medical bills? What about a student loan or even a job? If your child becomes a victim of identity theft, he or she could have all these things—and it might take years for you to discover them on your own.
Easy Targets
That's one of the reasons identity thieves are more likely to target children. Most people don't find out about their child's identity theft until the child applies for college loans or scholarships. Children also have clean credit reports, so thieves don't have to know a lot of personal information like age or address. Usually just a child's Social Security number will do the trick.
Thieves may sell a child's number over and over. Other times, a person will create a Social Security number and use it to rack up debt years before the child is even born and is assigned that number. Sadly, some children's identities are also compromised by family members.
Be Vigilant
Guard your child's personal information the same way you protect your own:
Don't carry your child's Social Security number with you, and always ask why you need to provide their number when it's requested on paperwork.
Teach your child to protect their private information by notifying you when they're asked for Social Security numbers or passwords online.
If your child receives credit offers in the mail or gets calls from debt collectors, don't assume it's a mistake. Check your child's credit report to see if any fraudulent accounts have been opened in their name.
One of the best ways to protect your child's identity is with ID theft insurance. While it won't stop identity theft, it will notify you of any suspicious activity using your child's personal information. Always choose an ID theft program that includes recovery services. That means the company provides experts who will resolve any issues and restore your credit for you if your child's identity is stolen. Dave recommends identity theft protection from Zander Insurance.
With "data spills" putting thousands more people at risk of ID theft every day, this isn't a problem that's going away anytime soon. Don't wait until you or your child are victimized. Take action now to protect your whole family.