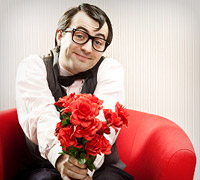 What's the easiest way to tell if a potential date shares your thoughts on money? Ask them. Speak in code.
For the past four years, we've taken it upon ourselves here at Dave's office to provide you some clever, not-so-clever and definitely cheesy pick-up lines to help you filter out the non-Dave fans from the sea of potential mates. As research reveals, couples who agree on how to handle their money statistically have a higher probability of their marriage withstanding the test of time.
To commemorate the fifth year of this joyous tradition, let's take a look back at the best of the best:
Is your credit score bad? Because you look like a 10 to me!
I've already kicked Sallie Mae out. Want to take her place?
You're so hot, you could melt my debt snowball.
The good news? I'm debt-free. The better news? I'm also date-free.
Why am I nervous about talking to you? Because you're better than I deserve.
Good thing I just bought term life insurance … because I saw you and my heart stopped!
I just bought a bass boat with cash … and it's a good thing, because you're quite a catch!
Allow me to introduce myself: I am "borrower," and you must be "lender."
When I saw you, my jaw dropped like the value of a new car!
You're finer than the print on my credit card statement.
If I had a dollar for every time I thought of you, I'd be in a higher tax bracket.
The ladies here would agree—I've taken the place of the paid-off mortgage as the status symbol of choice.