By Martha Thompson, Director of Guest Relations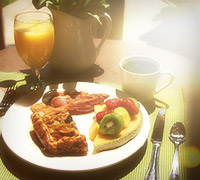 As a daughter, mom and grandmother, I love celebrating Mother's Day with all of the important people in my life! Call me crazy, but my ideal Mother's Day is spending quality time at home with my family as opposed to a crowded restaurant serving Mother's Day Brunch. And, some of my most precious memories, gifts and cards are the homemade ones!
With Mother's Day approaching, consider sticking to your budget and making a plan with the kids to surprise Mom on her special day. Most moms spend a lot of time in the kitchen. Give her a break on Mother's Day by kicking off the day with a delicious brunch that is easy to make and will make her proud! She'll appreciate the effort and the break she gets from kitchen duties.
Gather the kids the day before to discuss your game plan. Read the suggested recipe below, make a grocery list, and shop for your ingredients. Let the kids help mix and assemble your Cinnamon Bread Breakfast Casserole the night before, then cover and refrigerate. The next morning, while Mom sleeps in, bake your casserole and prepare your bacon while the kids set the table. When breakfast is ready, pour the orange juice and a cup of hot coffee for Mom. Add homemade Mother's Day cards and hugs from each child. Don't forget to clean up your breakfast dishes while Mom sits back and enjoys her special day!
Cinnamon Bread Breakfast Casserole
6 cups of cinnamon raisin swirl bread cut into ½ inch cubes (approximately 9–10 slices)
8 eggs
2 1/2 cups milk
1/2 teaspoon ground cinnamon
1/2 teaspoon ground nutmeg
Bottle of maple-flavored syrup, warmed
Grease 13x9-inch glass baking dish with cooking spray. Spread bread cubes evenly in baking dish.
In large bowl, beat eggs, milk, cinnamon and nutmeg until well blended. Pour evenly over bread. Cover with foil or plastic wrap and refrigerate overnight.
To Bake: Preheat oven to 350 degrees. Uncover baking dish. Bake approximately 50 minutes or until set and top is golden brown. Remove from oven and let stand for 5–10 minutes, allowing the steam to escape and casserole to set. Cut into 8 squares. Serve with warm maple syrup, crisp slices of bacon, and fresh fruit.
Get more recipes and behind-the-scenes news straight from Martha by following her on Twitter @marthas_place.