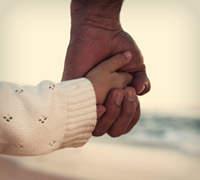 When some people talk, you can't help but listen. You know what they have to say is important.
Dr. Meg Meeker is, without a doubt, one of those people.
Pediatrician, wife, mother and best-selling author of multiple books, Dr. Meeker is one of the country's leading experts on parenting, teens and children's health. After Dave read her book Strong Fathers, Strong Daughters, he immediately booked her as a guest on his radio show and bought copies of the book for his entire team. "The thing the book did as much as anything was affirm me as a dad and remind me how important the role of fatherhood is," he said.
As a frequent guest on The Dave Ramsey Show and content contributor to daveramsey.com, Dr. Meeker continues to provide relevant insight and practical knowledge that all families can incorporate today. Take a few minutes and browse some of her most popular content to help dads grow in their relationships and help all of us encourage the father figures in our lives.
3 Ways to Celebrate Dads in a New Way
Ladies, skip the mall for gifts and make a few commitments to the father of your children.


A Father, a Son and a Pair of Shoes
Dr. Meeker recounts a story that changed her son's life forever while he was at his father's side.


My Father's Last Gift to Me
Dr. Meg Meeker shares about the good gifts her dad gave her, even to his final breath.


The Daddy Template
Because you are there from [your daughter's] earliest years, you set a template over your daughter's mind and heart regarding how she will interact with all males.


Hero Worship Is Not What You Think
From the moment your daughter first sees you, she gives you hero status. You are her hero simply because she wants you to be one.


The Dos and Don'ts of Love
In addition to your attention, your daughter wants to know that you adore her. Here are a few things that you should and shouldn't do to make her feel adored by you.


With the Eyes of a Hawk
The moment you walk into a room, your daughter knows that you are there. She tunes in to you because she needs to figure a few things out.


Keep No Secrets
Your daughter needs you to stay honest. She needs to know that you don't live with anything to hide, because she knows that what you hide isn't good. Find out what your daughter needs you to teach her about.


Give Her a Story
Show your daughter a different way to live than she gets to see anywhere else, because a daughter who is humble knows that she doesn't need to look further than her own family to realize that she has extraordinary worth.
Have you experienced these aspects of fatherhood in amazing ways? Let us know by leaving a comment below.