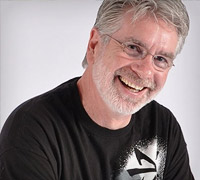 Normally, being labeled a freak is not such a good thing. But for Dan Rockwell, the title is simply awesome.
Dan is the man behind Leadership Freak, an immensely popular blog where he dispenses his 25 years of leadership wisdom to thousands of people every day.
In addition to his blog, Dan is the pastor at Good News Bible Church in Williamsport, PA, and has delivered more than 1,000 hours of dynamic presentations, seminars and workshops about leadership.
Recently, Dan visited with Dave's EntreLeadership team in Nashville, TN, to get a feel for how they operate. He also attended an EntreLeadership 1-Day event. Afterward, he took time to share his impressions of the visit.
"There is such a need for basic leadership development, leadership skills and tools to be available to people," he said. "Leadership is influence. We all want to make a positive impact. We all want to have influence. And yet, we don't really have the tools. Being at the event, you get encouraged. You get motivated. It was exciting."
Out of all the subject matter Dave covers in EntreLeadership 1-Day, Dan said the simplest advice was the most helpful to him.
"Dave said things that were so practical and useful—the rubber-meets-the-road kind of leadership that he exhibits in his organization," he said. "Like when it comes to deadlines, write it on the calendar. That doesn't sound like rocket science. But two days or five days or two weeks down the road, you've got something on the calendar every time you look at it.
"He also talked about counterbalancing the risk by breaking it down into smaller components," Dan added. "A leader is a risk-taker. You can't move forward without some risks. And that little tidbit helped me a lot. Don't swallow the whole elephant at once."
Dan says leaders who will get the most out of EntreLeadership are basically those who are in the trenches.
"If you have a business, you are an entrepreneur, or if you lead a nonprofit, you have to deal with people," he said. "You have to make decisions. You have to do this kind of stuff. So if you are in the battle, I think you need to be there."
Dan was also impressed by Dave's team, whom he met that day. "Just walking through Dave's organization, you start to listen and watch people," Dan said. "It seems like they want to enhance businesses. They want to enhance leaders, individuals and organizations, whether it's the financial thing or the leadership thing. Bringing value to others seems to be a theme running through the organization."
No leader should lead without these principles. It's what your team members need to see in you, and what you want to see in them. Learn more about the EntreLeadership Live Events, and put Dave's 20 years of proven business principles to work for you.
In 20 years, Dave has grown his company to a national winning brand with more than 300 team members who have impacted millions of lives. His company has been named one of the "Best Places to Work in Nashville" four years in a row. EntreLeadership is how he's done it and how you can do it too. Get your copy of the new book now!
Find out more about Dan Rockwell at his blog.