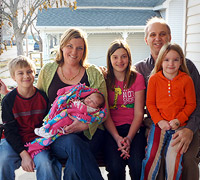 Still Going Strong

Carl and Tricia, pictured with their three youngest kids and new granddaughter, continue to reap the rewards of their debt-free commitment.

Failure? I never encountered it. All I ever met were temporary setbacks. —Dottie Walters

We've all encountered setbacks. They're just a part of life. But one thing makes the difference between a setback and a failure—your attitude. If you don't believe that, hello! This is your wake-up call!

Dave Ramsey fans Carl and Tricia in Indiana are an amazing example to us all. When we originally introduced Dave Ramsey fans to them in July 2009, they were in the middle of an income crisis. Carl took a 60% pay cut, and this couple was feeding a family of five on $60 a week.

Living on a plan and having a six-month emergency fund at the ready was a key component of their sacrifice and success. In order to make this work, Tricia became a bargain hunting, expert home economist—cooking just about every meal at home and home schooling their three youngest children. They stopped all but the bare minimum of their retirement savings and remaining mortgage. Throughout the rough patch, they continued to stick together as a family and benefit their community by leading Financial Peace University and mentoring other families.

A little over a year later, Carl is still employed with the same company in the volatile and cyclical steel industry. At the end of 2009, Carl's paycheck began to increase with less fluctuation, giving Tricia and Carl some much needed breathing room. At the same time, they realized their income might not quickly return to its previous level, so they revisited the budget and were able to resume working toward their long-term retirement, college, and mortgage goals. In fact, they've been planning so well that they anticipate a paid off mortgage in May 2015!

Last year, this family rarely had a meal out. But in 2010, they are able to budget $20 a week for eating out, $100 a week for groceries, and $20 a week for their family's entertainment. Their home remodeling project—which was put on hold during the pay-cut crisis—is back in full swing, and Tricia and Carl have been able to fund some small trips this year.

The key to the family's continued success follows a theme: adaptability and living on less than they make. They continue to follow Dave's principles and spread the word to everyone who will listen. Tricia is even teaching Foundations in Personal Finance to a class of 10 teenagers this year!

Tricia says, "There's always room to live on less to meet your financial goals, whether that would be preserving the fully funded emergency fund as was our case, or paying off a mountain of debt to free up your wealth-building income. Do what you've got to do to reach your goals."