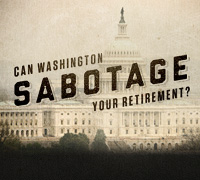 Politicians have a way of making dire predictions of what will happen if this legislation passes or that policy isn't approved. It is important to be aware and involved in the issues. But when it comes to your investments, it's more important to tune out the talking heads and focus on your long-term goals.
The truth is, investment success depends more on the resilience of the U.S. economy and your dedication to a long-term goal than on which candidate or party is in the White House.
Presidential Performance
For fun, let's say you made a hypothetical investment in the first year of each president's term. Ten years later, what kind of average annual return could you expect for investments made under the different administrations?
Good question. Let's start with President Bill Clinton. During his tenure, the economy experienced phenomenal growth, so you would expect a stellar average annual return. Ten years after Clinton took office, the S&P 500 was averaging 12.5% returns each year. Annual returns averaged 10.1% after his second term.
Now, let's look at President Jimmy Carter. His term saw the energy crisis and a tough recession—not the best and brightest of times. But the average annual return 10 years after he took office was16.4%, topping performance during Clinton's administration by several points.
The best 10-year average annual return occurred after President Ronald Reagan took office—17.4%. The worst was 4.8% after President Richard Nixon's first term.
Political Procrastinator?
There's just no way to make stock market performance line up with who's in office or what they're doing while in office. Your main concern is to invest in good mutual funds with long track records of growth—track records that outlast any presidential term. Then you can keep your focus on the long term.
Don't let politics get in the way of investing. Just invest in good mutual funds with long track records. A good track record outlasts any presidential term.
Want Expert Retirement Advice and Funds?
Talk with one of Dave's investing Endorsed Local Providers (ELPs). Investing ELPs are retirement experts and will show you how to invest so you can have a great retirement. Let Dave's team help you find an ELP in your area today.