How Amber Grew Her Business From $900 to Six Figures
4 Minute Read | August 07, 2020
Since launching the Business Boutique brand in 2015, Christy Wright has coached, taught and inspired women at all different levels and stages of life—and they are winning in business! Business Boutique started as a two-day workshop for women with side businesses, and it has grown into a national movement featuring thousands of women who are making money doing what they love.
Related: On April 21, join us on Christy Wright's Facebook page and watch her Business Boutique 1-Day event from San Antonio via Facebook Live for free!
From Concept to Reality
Amber Jones is one of the women whose business—and life—has been changed by Business Boutique. Amber is a wife and homeschool mom of four. She is also the owner of Minnie's Travel Boutique—a travel agency that plans and books Disney vacations. Although she now resides in Indiana, Amber is a former Florida resident and Disney World fanatic. Because of her love of Disney World, her friends and family were always asking her to plan their Disney vacations for them. One day, her husband said, "Hey, you should do this as a job!"

Does your business have the right insurance? Connect with a local pro to learn more.
In 2015, Amber began working for a friend's travel agency. Although she enjoyed the work she was doing, the atmosphere wasn't quite right for her. The agency she worked for lacked focus and required everyone to wear brightly colored Disney T-shirts as work uniforms. Amber said, "I looked like Disney had thrown up on me! It just wasn't me, and it didn't feel very authentic."
Starting From the Ground Up
After a year of begrudgingly working for someone else and with little income to show for it, Amber decided to attend the first-ever Business Boutique event in Nashville, Tennessee. She went in thinking, "Should I continue down this same road, or should I go out on my own?"
During those two days at Business Boutique, Amber had some major realizations. She was learning how to operate a business and if she started her own company, she could treat her customers in a way that felt authentic to her.
On the second day of Business Boutique, she called her boss and told her she was going to start her own travel agency. Then, through November and December, "I opened a business checking account, applied for my business license, and followed the other elements of the Business Boutique plan to get my agency ready," she said. By January, Amber had launched her business!
Related: Read the introduction and first chapter of Business Boutique the book today!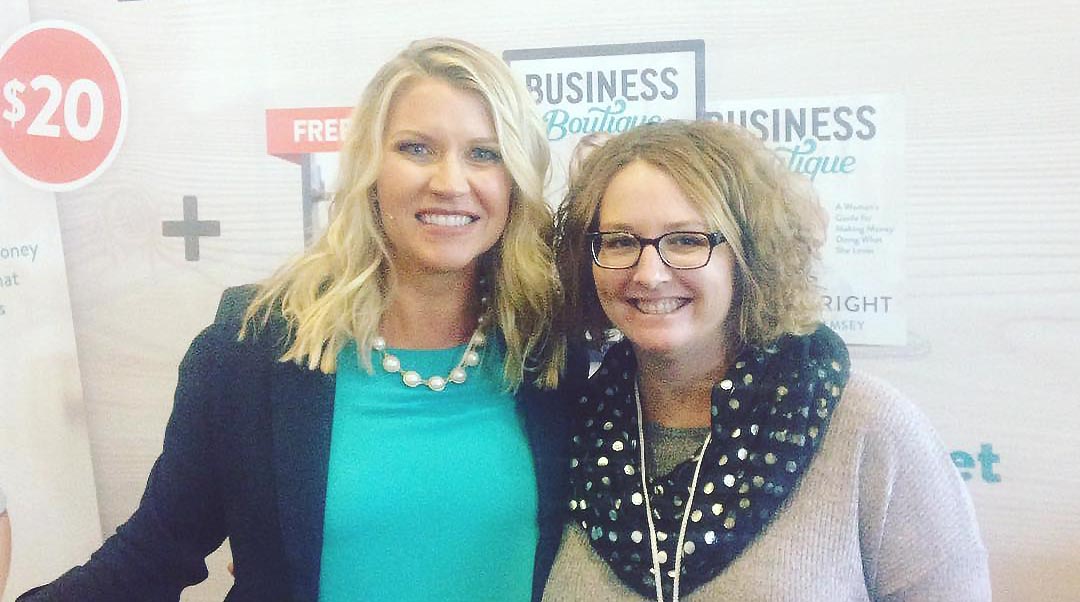 From "Mom With a Business" to Business Owner
Since starting her own agency, Amber's business has exploded! While working at her friend's travel agency, she booked a total of three trips and made about $900 in one year. After launching her own business, she booked 20 trips in the first six months alone! And since then, she's hired 15 team members.
Amber said, "Before Business Boutique, I always felt like a 'mom with a business.' Now I feel like a business owner. Before, I really didn't think that I could do this. I didn't think I could run my own business, let alone have people working for me. Business Boutique is the best thing I've ever done."
She shared how Business Boutique taught her to reach her customers by marketing through blogs, social media giveaways and by growing her e-mail list. "Last year, my goal was to make enough money for a new car. This year, we're on track to make $500,000 in sales. And next year, I want to make even more." She laughed and continued, "Now my husband says one day he'll be working for me."
Do You Want to Start Your Own Business?
If you're like Amber and have thought about starting or growing a business, Christy Wright's new book is the plan you need. Business Boutique: A Woman's Guide for Making Money Doing What She Loves will help you create a step-by-step, customized plan to turn your passion into a business! Whether you want to make an extra $50 or $5,000 per month, this book will get you from where you are to where you want to be.
Order today—it's time for you to make money doing what you love!