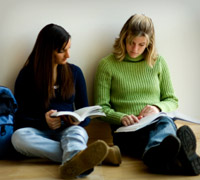 We've reported before that student loan debt now exceeds credit card debt in our country. In fact, the Federal Reserve Bank of New York announced that in 2011, for the first time ever, outstanding balances on all student loans will exceed $1 trillion.
It's easy to understand why the college-age population's outlook on their financial future is pretty dim. Only 18% of people ages 20–29 believe they will be able to have a comfortable retirement; 46% say their current financial success is below their expectations.
For 20 years, Financial Peace University (FPU) has brought financial education and hope to adults who have felt the same way about their future because of their money mistakes. Now, with Foundations in Personal Finance College Edition, college students in more than 150 schools receive FPU's message of hope—empowering them to make better money decisions and build a brighter financial future.
Addressing Students' Needs
Don Leavitt, Assistant Professor of Business at Corban University, has been teaching personal finance for 11 years. He's seen first-hand the need for a comprehensive personal finance curriculum that addresses students' current needs.
"Students bring me credit card statements they do not understand, and they are maxed out and late," Don said. "College students need to know how to handle money correctly now, not in retirement."
Brad Barnett, Senior Associate Director of the Office of Financial Aid and Scholarships for James Madison University, agreed, saying the practicality of the Foundations curriculum is one of its strongest features.
"It's relevant to where they are now as well as where they are going in the very near future," he explained. "As an instructor, it's motivating to watch students make such positive behavioral changes throughout the course of the semester."
Students Becoming Instructors
Both instructors said student response to the class has been positive. Seats fill up quickly and attendance and class participation are excellent.
"One of the coolest by-products of the class is that students start teaching their friends and family what they are learning," Brad said. He shared this comment from one of his students' course journals:
"I think what I've enjoyed the most is my ability to be more honest and sharing the lessons I've been learning with my mother. Who knew she'd actually start listening to me? I'm proud that I actually took a real-life course at JMU, because this is the most important class at JMU that I've ever taken. It made me face the reality of dealing with issues after college. And I'm not as upset about facing it anymore."
Empower Your Students
For any school on the fence about offering or updating their personal finance course, Don and Brad had the same message—"Do it!"
"We need to prepare young people for life in addition to a career," Don said. "Any college should consider this curriculum for their students as an orientation or elective class—maybe even required general education."
"I've seen students completely change their behaviors and perspectives on life overall as a result of being in this class," Brad added. "Not only do the students learn better skills to handle their money, but many of them report they are happier overall and more confident about life in general. This stuff is literally life-changing."
Foundations can be used in the classroom or in campus organizations. Find out how Foundations in Personal Finance College Edition can fit in at your school today.