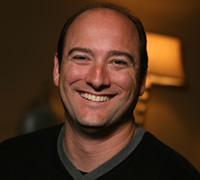 Tell us about yourself.
I joined Dave's team in October of 2000 and serve as the Vice President of Live Events. My wife, Debbie, started working for Dave at the same time, so it's a family affair for us. She's a Southern belle, I'm Sicilian, and somehow it all works out. I grew up in Lake Tahoe, California. My awesome team puts together over 20 public events each year for Dave.
How did Dave's live events get started?
The events started many years ago with Dave, a bad suit and an overhead projector. He was trying to get the message of Financial Peace out to anyone who would listen—usually groups of 20 to 30 people. Today, Dave wears jeans, we use a much larger projector, and we have seen the Total Money Makeover LIVE! event grow in attendance to over 80,000 people per year.
Do you have anything new planned in 2010 for Dave's events?
There's a new energy, excitement and feel to the Total Money Makeover LIVE! event! We've amped up the show to include a lot of audience participation through games from stage and in the arena. Plus, we're giving away lots of free stuff like Dave's books, Financial Peace University memberships and other great products. We're really taking the event to a whole new level! We're also excited about Dave's EntreLeadership business events in a couple of the live event cities.
Tell us about the business events.
Over the years, Dave has built a successful business by doing things God's way. As a result, we've had a ton of requests to create a public version of Dave's playbook—how we run the company on a day-to-day basis. After much consideration, we launched EntreLeadership, which has generated some of the greatest feedback of any event we've done. The flagship event, EntreLeadership Master Series, is held twice a year in really exciting places like Atlantis in the Bahamas. We also have a one-day version of the event, EntreLeadership 1-Day, that we do six times a year around the Total Money Makeover LIVE! events.
What if someone can't travel to Dave's live event? Is there another way to see the event?
This spring, we're simulcasting the Total Money Makeover LIVE! from Dallas, Texas on March 13. Hundreds of churches and businesses around the country will be hosting the event at their church, movie theatre or conference center by showing a streaming live feed from Dallas—and you can get involved, too!
Why go to a live event?
It's like a rock concert—Dave's energy and enthusiasm is extremely motivating! His message will empower you to put the principles into effect, take control of your money or your business, and change your life. We really hope to see you there!
Learn more about Dave's live events coming to you this season!