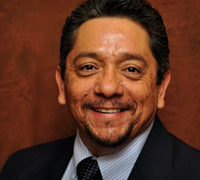 EntreLeadership is not just a theory. Thousands of business owners and leaders are using Dave's principles every day to take their companies and team members to heights they never imagined. In the EntreLeadership Spotlight series, we'll be highlighting some of these great leaders and learning about their dreams, motivation and secrets to success.
What I Do
I'm president and CEO of Banda Group International, a technical and environmental health and safety consulting firm headquartered in Chandler, Arizona.
A Characteristic Every Leader Should Possess
Integrity. If you approach every situation with the idea that your integrity is something that won't be compromised, no matter the outcome, then you'll sleep well at night.
My Mentor
I've actually been fortunate enough to have multiple mentors in my life. The first and probably most important was my late father Zeferino Banda Sr. He instilled in me the desire to be the best at whatever I attempted. His work ethic was also something that has stuck with me. He worked for TWA as a ramp service worker. He'd come home tired from a long day's work, but he still always made time to throw a baseball or a football around. He definitely had the most impact on my life.
My Best Leadership Advice
Understand that your actions and words are powerful. The people you're leading pay attention to everything you do and say.
If I'd Knew Then …
So many of us go into business because we're good at something, and we're not actually business people. That was me. So I would get as much education and information as possible on how to run a business. And I definitely would have attended EntreLeadership Master Series in the earlier stages of developing my company.
How to Beat the Competition
While I don't get to take as much time off as I'd like, I do think it's important to take some time—even if it's only a few days—to get away from the business, wind down and recharge my batteries.
My Favorite Part of the Job
I like the diversity of our work: We do so many different things for so many different clients in different parts of the world.
To learn more about business, team building and leadership, download our EntreLeadership Podcasts, which include lessons from Dave, plus interviews with key business leaders from across the nation.