Saving
Back-to-School Budgeting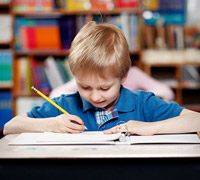 If you're a parent, you probably know the feeling.
You've got everything together for little Johnny's first day in first grade. Collared shirt? Check. New jeans? Check. Belt? Got it.
Little Johnny has dressed himself and looks great—just as you imagined. You're a proud parent. But then you hear his voice from down the hall: "Mom! My shoes are too small!"

Oh no, you think. He's outgrown his shoes! You just bought them in April. But, after a summer full of flip-flops and sandals, he hasn't worn them since the last day of school. Johnny may be excited about going back to school, but it's going to be a tough day for his feet.
Now you're left scrambling to figure out a way to fit new shoes into the tiny amount of money you have left in the back-to-school budget.
Sound familiar? If so, you're not alone. Every year, the back-to-school rush somehow manages to catch parents off-guard—even though they know it's coming. These last-minute frantic spending sprees put dents in their bank accounts and holes in their budgets.
Some of Dave's team members with kids help put together this list of things to keep in mind while you are preparing for your child to go back to school. If school has already started where you live, just remember that it's never too late to start tweaking your budget today!
Local experts you can trust.
Find an ELP
Fall jackets: When the kids start school, the weather is perfect for shorts and t-shirts. But, before you know it, fall will be here and they will have outgrown their jackets from last year. Get your hands on these before retailers start hiking up the prices for the fall!
Shoes: Little Johnny's story above illustrates the dreaded back-to-school shoe craziness. But it's worth mentioning again. If your child is wearing flip-flops all summer, don't get caught off-guard when they have outgrown their regular shoes by now or the end of the year.
Backpacks: That worn-out backpack from last year might not make it through the first month of school. It's much easier to find discounted backpacks in the winter and spring, so keep your eyes peeled throughout the next few months and you might find a deal.
Lunch money: A few dollars a day for lunch can add up over the course of a month, especially during a school year. Do you have this money marked in your budget? If the school allows you to pay for lunches ahead of time or add money to a lunch account, then that's a great way to build this money into your budget.
Medical requirements: Does your child need immunizations any time during the school year? Are they competing on a fall or winter sports team and need to complete a physical? Waiting rooms will be full, so make an appointment as far in advance as you can.
Fees: Workbook fees, lab fees, technology fees, PTA dues, club dues, field trip fees—they all add up and can cause death by a thousand cuts. Do a little research to find out what extras you'll be paying for throughout the school year.
Birthday parties: Who doesn't love a birthday party? A parent who hasn't budgeted for gifts—that's who. Your child may get some birthday party invites—not to mention parties at the school. Keep an eye out for end-of-summer toy sales and buy some inexpensive gifts to have when needed.
And while you're at it, buy extras! Little Johnny is going to lose his paper, notebook and pencil at some point. Don't give him an excuse for not doing his homework. Stock up on these in the winter or spring (best time for deals), and you'll save money!
Sending the kids back to school doesn't have to be stressful. If you have a little patience and do a little planning, you won't bust your budget—and you won't be out there in the middle of all those parents who waited until the last minute.
Check out all the great budgeting tools and kids' products in our online store to get your school year started off right!