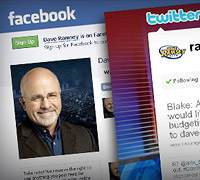 Check out the highlights of posts you may have missed in August, and be sure to follow us on Twitter and Facebook if you aren't already.
Lara (Assistant Producer): $1,407,000 worth of debt paid off just by those who got on the phone w/ DR on #TDRS today to yell I'M DEBT FREE! YTD = $27,869,000
Blake: Instead of wondering when your next vacation is, maybe you ought to set up a life you don't need to escape from. - Seth Godin
Blake: If broke people are making fun of your financial plan, you're on track! - Dave Ramsey
Blake: Myth - Millionaires don't pay their taxes. Fact - Top 1% of earners pay 40% of all taxes! 7 Millionaire Myths http://yhoo.it/bn6dZG
Blake: Without a plan, you will buy things you don't need and then eventually you will need things you can't buy. - Dave Ramsey
Blake: This would be a much better world if more married couples were as deeply in love as they are in debt. - Earl Wilson
Blake (Producer): Average car payment is over $400 per month. Average credit card debt is over $7k per household. Who wants to be average?
Blake: Those that say it can't be done should get out of the way of those doing it. - Chinese proverb
Blake (Producer): Social Security will pay out more money this year than it collects in payroll taxes & is due to exhaust its reserves in 2037 as the number of beneficiaries exceeds the number of workers paying taxes to fund it. Are you relying on Social Security as your retirement plan?!
Blake (Producer): Congrats to Jim Coutinho (FPU Grad/Attorney) who is now LAW SCHOOL DEBT FREE! $91k paid off! http://twitpic.com/2hs2j7
Steve: This morning Dave's FB page hit 600K fans! If you're not one yet then go join up!