By Martha Thompson, Director of Guest Relations
Football is one of America's favorite pastimes, and every fall the die-hard football fans on the Dave Ramsey team prepare for the upcoming season. We all love cheering on our favorite teams, including the Ramsey family who are avid University of Tennessee fans. Regardless of the team you follow or whether you are hosting an at-home party or tailgating in the stadium parking lot, you will always score points with your game-day crowd by serving some of my favorite tailgating recipes.
Spinach Artichoke Dip
You no longer have to go to your favorite sports restaurant to enjoy this delicious hot dip while watching the game. Your game-day guests will keep coming back for more!
1 cup mayonnaise or salad dressing
1 cup shredded Parmesan cheese
1 can (14 oz) of artichoke hearts, drained and coarsely chopped
1 package (10 oz) frozen chopped spinach, thawed and squeezed to drain
1/2 cup chopped red bell pepper
1/2 cup shredded Monterey Jack cheese
1 tablespoon Cajun spice (found in grocery spice aisle)
Spray inside of 1- to 2-quart slow cooker with cooking spray. Mix mayonnaise and Parmesan cheese in medium bowl. Stir in chopped artichoke hearts, chopped spinach and bell pepper. Spoon into slow cooker and top with Monterey Jack cheese.
Cover and cook on low heat setting approximately 1 hour and 15 minutes or until the cheese has completely melted. Stir occasionally.
Serve over toasted baguette slices, assorted crackers or pita chips. Makes approximately 20 servings (2 tablespoons each). Double the recipe for a larger crowd.
Game-Day Buffalo Wings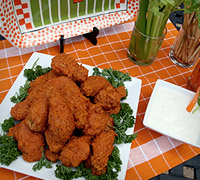 What's a football game without hot wings! I have several recipes for wings, but this is one of my favorites. They taste just like the ones served at one of our favorite sports restaurants. These wings are great served hot right out of the fryer!
For buffalo sauce:
1/3 cup real butter (no substitutions)
1/2 cup hot sauce (your choice)
2 dashes ground black pepper
2 dashes garlic powder
For wings:
Oil for deep frying
18–20 chicken wingettes (that's the whole wing cut in two parts with tip cut off)
1 cup all-purpose flour
1/2 teaspoon paprika
1/2 teaspoon cayenne pepper
1/2 teaspoon salt
In a small bowl, mix together the flour, paprika, cayenne pepper and salt. Place chicken wingettes in a large zippered plastic storage bag with flour mixture. Shake until they are evenly coated. Leave in bag and refrigerate for an hour.
Heat oil in large skillet. (I use cast iron, but if you don't have one, any large frying skillet, deep fryer, dutch oven or electric skillet will work.) The oil should be hot and just enough to cover a batch of wings entirely, an inch or so deep.
Fry coated wings in medium-high oil for 10 to 15 minutes, turning as you cook until wings begin to turn golden brown. Remove from heat and drain on paper towel.
Meanwhile, combine the butter, hot sauce, pepper and garlic powder in a small saucepan over low heat. Stir together and heat until butter is melted and mixture is well blended. Remove from heat. Place warm wings in large serving bowl, slowly pour hot sauce mixture over wings, and toss gently. Remove wings right away and serve warm with celery sticks and blue cheese dressing.
Have fun cheering on your team this season while enjoying delicious game-day food!
Get more recipes, tips and advice from Martha by following her on Twitter @MarthasPlace.