Mutual fund fees are a confusing yet inevitable part of retirement investing. Fees ultimately reduce the amount you're able to save for retirement, so some people build their entire investing philosophy around avoiding them at all costs. Maybe you've heard their advice:
You'll never make money if you pay a commission to invest in mutual funds!
Always choose passive investing strategies like index funds and exchange traded funds so you can avoid ridiculous mutual fund sales charges.
But no matter how you invest for retirement—mutual funds, single stocks, bonds, real estate—there's a cost to do business. You simply have to make sure that the investment you choose will grow enough to cover the costs and allow you to build your retirement nest egg over time.
Clear the Cobwebs With Some Simple Math
That sounds easy, but in all honesty, understanding mutual fund fees is tricky. If you've ever tried to read up on them, you've probably come across articles that say things like this:

Be confident about your retirement. Find an investing pro in your area today.
Let's say, for example, you invest in a fund that earns 10% in the first 12 months you own it. Assume further that it is a so-called "front-end load" fund, where a sales charge of 5% is assessed as soon as you purchase, and that the regular annual management fee is 1% (typical for an actively managed equity fund).
In this situation, even though the fund earns a gross return of 10%, your net return—the amount actually credited to your account—is only 4%. The front-end load fee and management fee combine for a total of 6%. That's money that will not go toward your long-term investing goals.
All of this is true—for the first year. But what this article doesn't make clear is that 5% sales charge is a one-time fee. You pay it once and you're done. After that, you'll average a net 9% growth, assuming your fund continues to average a 10% gross return.
To determine your first-year return on this example with a one-time $1,000 investment, the calculation goes like this:
Initial investment ($1,000) - Sales charge (5%) = Net investment ($950)

Net investment ($950) + Annual return (10%) = Gross balance ($1,045)

Gross balance ($1,045) - Annual management fee (1%) = Net first-year balance ($1,034)
At the end of your first year, you'll have a balance of $1,034.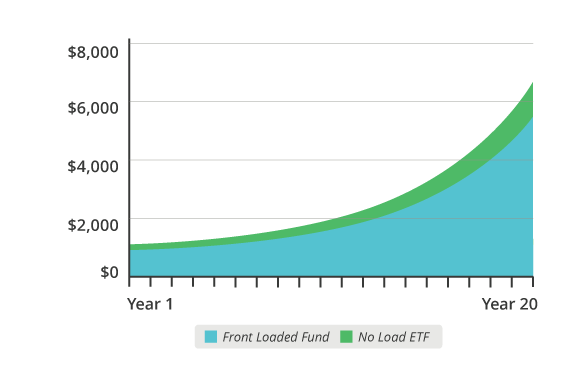 The next year, assuming another 10% growth year, your investment will grow to $1,138. Subtract the 1% annual maintenance fee, and your net second-year balance is $1,126.62. If you fund continues to net 9% growth over the next 18 years, your $1,000 investment will grow to $5,311.
The lower your fees, the more your investment will grow. If you chose a passively managed option like an ETF with no front-end sales charge and an annual operating fee of just .07%, your balance would be $6,633 after 20 years. So with all things being equal except the fees, a no-load, passively managed fund looks like a good deal.
Be Sure to Get the Full Picture
But let's shake things up a bit and calculate a long-term scenario with some real long-term returns.
This time we'll keep our example ETF with the .07% annual fee and compare it to a mutual fund with a 5.75% sales charge and annual operating fees of .87%. Both are real-life funds we compared using FINRA's fund analyzer. Since both of these are real funds, they also have real average annual returns.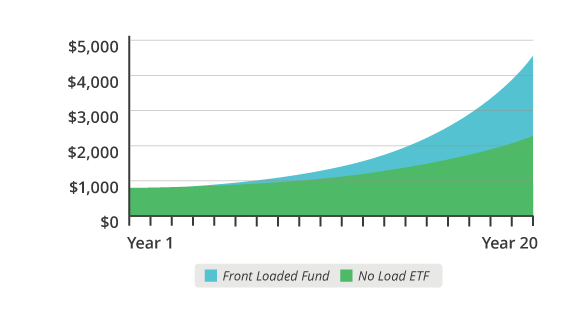 Our "expensive" mutual fund has an average annual return of 9.17%. At that rate, after fees, your $1,000 investment grows to $4,580 in 20 years.
Our "inexpensive" ETF, however, has an average annual return of just 4.39%. That gets you $2,330, after fees, in 20 years.
So, yes, with the ETF, you pay far less in fees ($22 compared to $457), but you also end up with about half the growth.
The bottom line is if you're choosing retirement investments based solely on fees, you're not getting the full picture.
We're not bashing inexpensive mutual fund options here. A combination of low fees and strong returns is exactly what you're looking for.
How Are Your Funds Doing?
The next logical question is: How much growth should my mutual funds net over the long term? A common benchmark for mutual fund investments is the S&P 500. If your mutual funds are keeping up with the long-term average annual growth of the S&P 500, currently between 11% and 12%, your growth will easily cover the fees associated with your mutual funds.
Maybe you want to be conservative and aim at a lower number—6%, 8% or 10%. That's fine. You'll still make plenty of progress toward your retirement goals and easily cover your fund fees over the long-term. Just make sure you're investing enough to reach your retirement goal based on the growth you're projecting.
One More Thing to Keep In Mind About Those Fees
Don't forget that the sales charge on your front-loaded funds isn't money wasted. It goes to pay your investing advisor for the service they provide: helping you choose excellent mutual funds. But a good advisor won't stop at recommending high-performing mutual funds for your retirement.
Your advisor will also help you stick to your long-term investing plan and keep you from panicking when the stock market takes an unexpected dive like it did in late August. In that instance, the market dropped and rebounded quickly. But in prolonged downturns, many folks who save for retirement exclusively in no-load investments make the mistake of jumping out of their investments and missing the market rebound—because it's impossible to know when it will happen.
Most often, the end result is a much lower return on their investments than they may have had by following the advice of an advisor they trust.
The Best Way to Be Sure
Maybe you've already figured out that the question, "Are mutual fund fees destroying my retirement?"is a tough one to answer. Most mutual funds will grow enough over time to pay for themselves, but are yours growing enough to give you a comfortable retirement? That's another way an investing professional can help—by reviewing your mutual fund choices and nailing down whether or not you've got the right investments to get you to your goal.
You should also be able to trust your advisor to help you choose the investments that are best for you—not the ones that will result in a higher commission for the advisor. We can put you in touch with an advisor in your area who has earned Dave's recommendation for giving honest investing advice. Get in touch with your advisor today to make sure fees aren't eating away at your retirement savings.