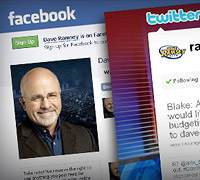 Facebook and Twitter are two of the best places to catch behind-the-scenes glimpses and the most current updates from Dave and his team. Check out some of things you missed in April if you have yet to friend Dave on Facebook or follow him and the team on Twitter:
Facebook
Steve: Wow, you pushed Dave's Facebook page to over 800K fans today! Thanks for telling your friends, family and coworkers! Now, (you knew I was going to say it) lets go for 1 MILLION!
Lara (Assistant Producer): $1,243,000 worth of debt paid off by just those who got on the phone/show w/ Dave today! Year To Date = $10,832,000
Steve: Springtime means yard sales. Learn how to make the most of your yard sale adventures with this article on daveramsey.com titled Turning Trash into Treasures.
Christy: Sneak peek at our new gift for graduating seniors!
Steve: What do you do when you're on a date with someone and they pay with a credit card? Tell us in the comments! (We're thinking this topic could make for a good article on daveramsey.com)
Blake: "President Obama is slated to appear on one of Oprah's last shows. He's hoping it's the one on which she gives away $14 Trillion." - Conan O'Brien
Twitter
Unresolved disagreements at work can't be resolved if the leader doesn't know they exist. Keep your ear to the ground! - @DaveRamsey
Too many companies practice "Mushroom Communication" with their team members: Keep them in the dark and feed them manure. - @DaveRamsey
Convinced that one key to our success is our hiring process. Your people are your secret weapon. Choose them slowly and wisely. - @DaveRamsey
Chris: "Your enterprise will never outgrow you." – Dave Ramsey - @EntreLeadership
The realization that life is expensive is a hard reality. Vet bill, random purchases, & that was just today. Thankful 4 a budget & saved $$ - @RachelCruze
Some parents have their kids listen 2 the @ramseyshow N car. Others line them up on the glass 4 the entire show! http://yfrog.com/h4k4lwij - @Marthas_Place
Follow us now on Facebook and Twitter to keep up to date in May!