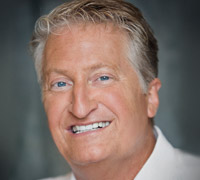 Ask author Andy Andrews about failure, and you might be surprised by his answer.
He loves it, which is a funny thing coming from a guy who has written numerous best-sellers and is anything but a flop. But it wasn't always this way. Andy pitched his first book to 51 publishers before he actually received a yes nearly four years later.
For Andy, it was an experience he wouldn't trade for all the books on Amazon. "There have been many times in the past eight or nine years I have been able to use that story to lead somebody to a success of their own," he says.
Besides being an author, Andy just happens to be a great friend to the Ramsey organization and one of EntreLeadership Podcast host Chris LoCurto's favorite people on the planet. Andy recently stopped by to discuss his books and the power of telling a story for our latest podcast. Here is a summary of some of the great things he shared with us.
Chris: Dave says you are no ordinary author but more of a life whisperer. And you are not only one of my favorite authors but a great storyteller. Do you think of yourself that way?
Andy: I get labeled an author or a speaker, but people forget the essence of that is storytelling. That's how I grew up. My favorite teachers in school were storytellers. My dad was a storyteller. When I was learning something, I was told a story. When I was trying to be taught something, I was told a story. When I got into trouble, I was told a story.
Chris: When did you realize how powerful a story can be?
Andy: I started out as a traditional standup comic. At that time, the only comedians I had ever seen were on The Tonight Show, so I was doing it like them. Then, I started taking that material and turned it into, "Let me tell you what happened when I was 11 years old." All of a sudden, the audience was responding to the same material in an entirely different way.
Chris: Why is storytelling so important for leaders to master?
Andy: Until someone is moved emotionally, it rarely sticks with them. How many times in your life did you study something or hear something in a business presentation and it just goes right out of your head? But when you watch a movie that moves you emotionally, you wake up the next day and you are still feeling it—maybe it never left you and you talked about it for weeks. The same thing is true of a story. To tell people stories really connects you with them emotionally.
Chris: Is there a secret to telling a good story?
Andy: When you pour your heart into a story with authenticity, the listener will tear up when you do, even when they've never been in that position. When you smile, they'll smile. When you laugh, they'll brighten up. So that's what I would urge business leaders to do. When they are communicating, understand their life experiences are more compelling than anything they could possibly make up.
Chris: Your first book, The Traveler's Gift, was very successful, but it didn't start out that way. It was considered a failure, which you say is a good thing. How is failure important, especially as it concerns leadership?
Andy: You should never look at your own failures or shortcomings as horrible. They can actually define you as a leader. Think about it. If someone is going through something, you can say, "You know what, I know exactly what you are talking about because I had the same thing happen to me. Let me tell you how I felt and what I did about it. I know you are in a horrible place. But it's going to be okay, because I've already traveled that road. I know the ruts and how we are going to get through them."
For more of Chris LoCurto's interview with Andy Andrews, including their discussion on Andy's latest book, How Do You Kill 11 Million People?, download our latest EntreLeadership Podcast. Each podcast also includes a lesson from Dave.