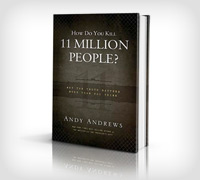 By Andy Andrews
For many years I have been asked to speak to political gatherings of one type or another. And for many years I have consistently declined. Because the books I write are generally regarded as commonsense literature—novels that illustrate life's principles—I suppose many politicians have simply assumed that I was on their side. However, I am not an "us or them" kind of person. Actually, I am more of a "we" person.
Don't get me wrong—I do have some absolutes carved into my heart and mind, but I am optimistic enough to believe there is still common ground even with those of us who might disagree. Don't we all want the best for our country and a secure and prosperous future for our children? Of course we do. And I believe that we can talk about divisive subjects without screaming at each other.
Somehow, for the most part, our parents and grandparents managed to disagree with their neighbors and still remain neighborly. And they usually did it from their front porches. Today, most of us don't even have front porches. We have retreated to the backyard, where a single opinion can be isolated and enforced by a privacy fence.
Several years ago I asked myself these three questions:
Where do we begin to find common ground in regard to what we want (or don't want) for the future of America?
Is it possible to write something that doesn't use the words Republican or Democrat, liberal or conservative, yet conveys a message with which everyone could agree?
Can it be written in a concise fashion allowing anyone to read it, clearly understand the message, and be empowered in less than fifteen minutes?
Here, then, is my answer to those questions.
Excerpted from How Do You Kill 11 Million People? by Andy Andrews. Copyright 2011 Andy Andrews. Published by Thomas Nelson, Inc. Used with permission.