An Attitude of Gratitude: 3 Ways to Instantly Inspire Your Team
4 Minute Read | December 20, 2018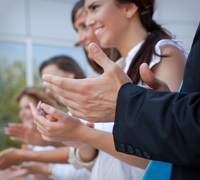 Thanksgiving is one of our team's favorite holidays, and there's good reason for it. Sure, Christmas is awesome, and the Fourth of July, with all that grilling, parades and fireworks, is pretty cool, too. But on that fourth Thursday in November—just when life is about to get its craziest with the Christmas season kicking off— we collectively stop and give thanks for all of our blessings.
Except for the turkeys of America, how could anyone not like a day of gratitude and special thanks? But what if you could spread that same feeling of gratefulness throughout the year, especially among your team? Do you think it would inspire them?
What Dave came to learn is that people, no matter who or how old they are, yearn for appreciation. It raises them up and shows them they are valued. The easiest way to give them a big thank-you is through recognition. In study after study, it's the number-one way to motivate your team. As Dave teaches in Lesson Nine of EntreLeadership, when there is no recognition, it is very difficult to have passionate, creative, motivated team members. So how can you recognize your team? Start with these simple ideas.
1. Just Do It
Make a habit of catching people doing something right and let them know about it. A sincere compliment is so unusual that it immediately sets you apart. It doesn't have to be anything complicated—a simple nod or smile showing your approval will do. You are telling the team member they are doing a good job without saying a word.
2. Pump Them Up
Whenever you get the chance, brag on your team members, especially in front of those they love. Tell a spouse or parent that their child/husband/wife is a rock star and see what happens. From your newest team members to the most seasoned veterans, they'll beam.

Does your business have the right insurance? Connect with a local pro to learn more.
Your team also cares a lot about their peers. Recognition in front of their colleagues and friends is powerful. Imagine giving an award to one of them in front of their entire work family or reading an email from a customer about the person in front of your whole staff. How good will they feel?
When Dave first started the company, he didn't have any money. So at Christmas, he gave out lavish praise instead of gifts at a big dinner get-together. He would recognize each person individually and praise them in detail. Everyone ended up crying, and it became a tradition the entire staff looked forward to every year. Today, the team is too big to praise individually at the Christmas party, but all of Dave's leaders continue the spirit of those holiday meals and pour on the praise to a handful of superstars.
3. Put It on Paper
Take a few minutes to make it official and write a note showing your appreciation or letting them know of a job well done. When you recognize people in writing, it takes on even more meaning—plus it is something they can save. Don't be surprised to find it framed on their desk or taped to their bulletin board. A hand-written note can be that powerful.
Theodore Roosevelt once said, "True homage comes from the heart, as well as from the lips, and shows itself in deeds." By following this simple rule, inspiring your staff will take little effort, because they believe you value what they bring to the table every day. You'll create an atmosphere where everyone wants to succeed, and your business will soar.
No leader should lead without these principles. It's what your team members need to see in you, and what you want to see in them. Learn more about the EntreLeadership Live Events, and put Dave's 20 years of proven business principles to work for you.
In 20 years, Dave has grown his company to a national winning brand with more than 300 team members who have impacted millions of lives. His company has been named one of the "Best Places to Work in Nashville" four years in a row. EntreLeadership is how he's done it and how you can do it too. Get your copy of the new book now!