By Martha Thompson, Director of Guest Relations
With autumn comes cooler weather and lots of opportunities to gather with family and friends. Whether it's a football game, a holiday, or family and friends gathering around my kitchen island, I love to showcase delicious desserts featuring the best of autumn's harvested fruits and vegetables. Below are two favorites. One is quick and easy, and the other is worth every minute you put into preparing it!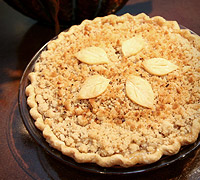 Apple Crumb Pie
This recipe brings new meaning to the saying, "As easy as pie!" I have recently received emails from busy Dave Ramsey Show fans requesting quick and easy desserts. If you do not have a lot of time to spend baking, then this delicious apple crumb pie is for you! You can assemble it in minutes and it looks, smells, and tastes like you've made it from scratch!
9-inch glass pie dish
Unbaked 9-inch refrigerated pie crust
2 cans (21 ounces) apple pie filling
1/2 teaspoon ground cinnamon
4 tablespoons (1/2 stick) of real butter, divided
2 cups of store-bought crushed pecan shortbread cookies (15-16 cookies)
Press pie crust into the bottom and up the sides of pie dish and crimp the edges.
Pour the apple pie filling into the unbaked pastry shell.
Sprinkle top with cinnamon and dot with 1 tablespoon of butter.
Melt the remaining 3 teaspoons of butter and set aside.
Place cookies in zip-lock bag and gently crush into chunks.
Measure 2 cups of crushed cookies and pour melted butter over cookie pieces. Toss until coarse crumbs form.
Sprinkle buttered crumbs generously over the top of the pie filling. Decorate with cut-out leaves from extra pie crust.
Cover the top of your pie loosely with foil to prevent edges from burning and bake at 450 degrees for 10 minutes.
Reduce heat to 350 degrees; remove foil from edges and continue baking for 40–45 minutes or until crust is golden brown and filling is bubbly. Cool for at least 2 hours before cutting into wedges.
Martha's Carrot Cake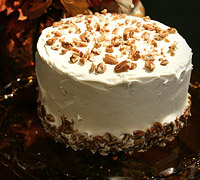 I recently put a picture of this cake on Twitter, and I've received emails asking for the recipe. I have baked this cake for years, and it is one of my most requested recipes. Its moist texture and rich combination of spices, fresh grated carrots, raisins, and pecans is perfectly complemented by buttery cream-cheese frosting. Does a piece of carrot cake count as a serving of vegetables? I have no idea, but we can pretend that it does!
2 cups sugar
1 1/2 cups vegetable oil
4 large eggs
2 cups all-purpose flour
2 teaspoons baking powder
2 teaspoons baking soda
1 teaspoon salt
1 teaspoon ground cinnamon
3/4 teaspoon ground nutmeg
3 cups finely grated peeled carrots (about 1 lb. of fresh carrots)
3/4 cup chopped pecans
1/2 cup raisins (optional)
Preheat oven to 325 degrees. Lightly grease three 9-inch cake pans with 1 1/2-inch high sides. Line bottom of pans with waxed paper. Lightly grease waxed paper and set aside.
Using electric mixer, beat sugar and vegetable oil in bowl until combined.
Add eggs one at a time, beating well after each addition.
Sift flour, baking powder, baking soda, salt, cinnamon and nutmeg together in a separate bowl. Mix slowly into sugar and oil mixture.
Stir in shredded carrots, chopped pecans, and raisins.
Pour batter into prepared pans, dividing equally for a perfect three-layer cake. Bake 50 minutes or until toothpick inserted into center comes out clean and cakes begin to pull away from sides of pans.
Cool cakes in pans on racks for 15 minutes. Turn out cakes onto racks and cool completely.
Frosting
4 cups powdered sugar
2 8-oz packages cream cheese, room temperature
1/2 cup (1 stick) unsalted butter, room temperature
1 teaspoon vanilla extract
To make frosting: Using electric mixer, cream butter and cream cheese together. Slowly mix in powdered sugar one cup at a time and beat until smooth and creamy after each addition. Stir in vanilla. Chill the icing for about 15–20 minutes so cream cheese and butter starts to firm up a little before using. The iced cake is actually better when prepared 1–2 days ahead. Store in an airtight cake keeper in the refrigerator.
Follow Martha on Twitter @Marthas_Place.