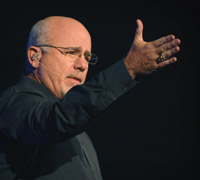 Dave Ramsey is on fire!
Don't worry folks; he's going to be okay. Just like the stop, drop and roll response you practiced in elementary school, Dave's got a plan.
Unlike your plan, however, his will ignite a nation.
For more than four years he's watched our country face an economic downturn so deep that depression and fear settled like a blanket across the land. Our people are weary, and our hope is gone.
Politics won't fix the mess we're in. Fortunately, the church can. Last summer, Dave addressed pastors across the country, inviting them to join him in launching a Great Recovery.
You can check out the video to watch the full event or read through the main points below.
People are suffering. The economy bottomed out in 2008, and financial fear became rampant. Our nation continues to endure the harsh realities of a downed economy and the relentless pounding of hopelessness from the media.
Hopelessness invades our spirit and attitude. Individuals are holding back financially because they're worried about the future. They aren't spending like they once were, and those with money and jobs aren't giving like they once did.
God is the true author of hope. God provides by pouring into us creativity, work ethic, ingenuity and initiative. He also gives us the power to be diligent and excellent over an extended period of time so that we may prosper. That's hope!
The economy consists of millions and millions of individuals like me and you, and most of them aren't doing well. They're spending money they don't have to buy things they can't afford to impress people they don't like. They are deeply in debt, with no savings and no plan.
If you fix the individuals, you fix the economy. This idea is counter-cultural because as a society, we've come to count on the government to rescue us. Unfortunately, the disease is at the base of the tree, not the branches.
When people decide to do things God's ways, the result is revival. As the vaccine for hopelessness, the church earns the right to speak into people's lives. The church can even provide insight on God—the original author of this "new way" to handle money. Through this effort, many people will be introduced to Jesus and come to know him.
The time is now. There is a great vacuum in the marketplace, and our country is ripe for a movement. Only the church, which is the haven of hope, can walk in and give real answers.
Can you grasp the vision? Imagine what would take place in your home if you began to handle money God's ways. Consider the change in your church, community, state and nation. By relying on God for our hope, we would experience a covering of peace and joy instead of fear and depression.
Will you join the effort? James 4:17 says, "Therefore, to him who knows to do good and does not do it, to him it is sin." As Christians, we know our mission is to bring others into a relationship with God. We are also to care for those who are in financial despair. This is the best opportunity for the church to meet the two most pressing needs of our day.
We invite you to partner with Dave and ignite a fire across our nation!