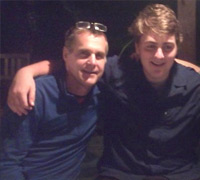 Like Father, Like Son
"He [my son] decided to set aside his queasiness in order to figure out a few things about life. He just happened to do so at his father's side," Dr. Meg Meeker said.
My husband and son recently returned from Puerto Maldonado, Peru, where they worked with a medical team to bring care to folks who rarely see a doctor. Their team consisted of two physicians (my husband was one), a group of college students pondering the meaning of life, a few medical students, two translators and a cook.
My 19-year-old son was hesitant to go because they were going to be in the Amazonian jungle, and even at 6'3", he's, well, not very fond of snakes, spiders, humidity, heat or the possibility of catching malaria. After one year of college and a heavy hit from a philosophy teacher about humanity, existentialism and the question of God's existence, he decided to set aside his queasiness in order to figure out a few things about life. He just happened to do so at his father's side.
Each morning, their team carted supplies to a church or school in the city where they were greeted by lines of children, old men and women who had waited hours to see a doctor. Some needed their sight restored, some sought insulin, and others just wanted to know that someone cared. My son spoke to them in broken Spanish, took blood pressures, and gave fluoride treatments. And sometimes, he played soccer in the sweltering heat with young boys and deflated soccer balls.
In the evenings, the team shared stories and encouragement over thick Peruvian coffee. The next morning, they got up at 6 a.m. and started the process all over again. Toward the end of the trip, my son noticed something peculiar.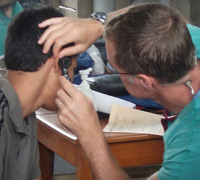 Providing Basic Needs to the Hurting
Peruvians, like this man being examined by Dr. Walter Meeker, traveled and waited for hours to be cared for by skilled doctors.
He noticed that some of his dad's belongings were missing, like his favorite running shoes.
Suddenly, he recalled an elderly blind gentleman who had visited their make-shift clinic three days earlier. Over dusty, rock-laden paths, this man had trekked barefoot three miles to stand in line for two hours and see the doctor. Then my son remembered another image. It was the old man hobbling back onto the dusty road with his dad's running shoes on.
When he arrived home from Peru, my son changed his summer plans. After his first day of work at his summer job, he signed up for Calculus 2 at the local college. He wanted to get a jump on switching his major from engineering to pre-med. In spite of the prodding from engineering professors and persuasive arguments about the meaning (or lack thereof) of life, my son came home and wanted to do what his father did.
Fathers don't need outstanding parenting skills, coaching in communication or large budgets to afford summer camps and a lot of nice stuff for their sons and daughters. Nope. Dads need to let their kids live life next to them. Because good men influence who their children become. Now that's something to celebrate this month.
Pediatrician, wife, mother, and best-selling author of six books, Dr. Meg Meeker is one of the country's leading experts on parenting, teens and children's health. Find out more about her at megmeekermd.com.