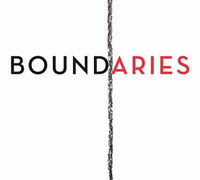 In the classic book Boundaries, Dr. Henry Cloud and Dr. John Townsend enlighten readers on how to take control of their lives by learning "when to say yes" and "how to say no!" If this excerpt feels like a long, hard look in the mirror, you may be lacking boundaries in one or more areas of your life. But don't worry; this condition is reversible!
6:00 A.M.
The alarm jangled. Bleary-eyed from too little sleep, Sherrie shut off the noisy intruder, turned on the bedside lamp, and sat up in bed. Looking blankly at the wall, she tried to get her bearings.
Why am I dreading this day? Lord, didn't you promise me a life of joy?
Then, as the cobwebs left her mind, Sherrie remembered the reason for her dread: the four-o'clock meeting with Todd's third-grade teacher. The phone call returned to her memory: "Sherrie, this is Jean Russell. I wonder if we could meet about Todd's performance and his ... behavior."
Todd couldn't keep still and listen to his teachers. He didn't even listen to Sherrie and Walt. Todd was such a strong-willed child, and she didn't want to quench his spirit. Wasn't that more important?
"Well, no time to worry about all that," Sherrie said to herself, raising her thirty-five-year-old body off the bed and padding to the shower. "I've got enough troubles to keep me busy all day."
Under the shower, Sherrie's mind moved out of first gear. She began mentally ticking off the day's schedule. Todd, nine, and Amy, six, would have been a handful even if she weren't a working mother.
"Let's see ... fix breakfast, pack two lunches, and finish sewing Amy's costume for the school play. That will be a trick-finishing sewing the costume before the car pool picks her up at 7:45 A.M."
Sherrie thought regretfully about last night. She'd planned to work on Amy's costume then, using her talents to make a special day for her little girl. But her mother had dropped over unexpectedly. Good manners dictated that she play hostess, and another evening was shot. The memories of her attempts to salvage the time weren't pretty.
Trying to be diplomatic, Sherrie artfully told her mother, "You can't imagine how much I enjoy your surprise visits, Mom! But I was wondering, would you mind if I sew Amy's costume while we talk?" Sherrie cringed inwardly, correctly anticipating her mother's response.
"Sherrie, you know I'd be the last to intrude on your time with your family." Sherrie's mother, widowed for twelve years, had elevated her widowhood to the status of martyrdom. "I mean, since your father died, it's been such an empty time. I still miss our family. How could I deprive you of that for yourself?"
I'll bet I find out how, Sherrie thought to herself.
"That's why I can understand why you don't bring Walt and the children to see me much anymore. How could I be entertaining? I'm just a lonely old lady who gave her entire life to her children. Who would want to spend any time with me?"
"No, Mom, no, no, no!" Sherrie quickly joined the emotional minuet she and her mom had been dancing for decades. "That's not what I meant at all! I mean, it's so special having you over. Goodness knows, with our schedule, we'd like to visit more, but we just haven't been able to. That's why I'm so glad you took the initiative!" Lord, don't strike me dead for this little lie, she prayed silently.
"In fact, I can do the costume any old time," Sherrie said. Forgive me for this lie, too. "Now, why don't I make us some coffee?"
Her mother sighed. "All right, if you insist. But I'd just hate to think I'm intruding."
The visit lasted well into the night. By the time her mother left, Sherrie felt absolutely crazy, but she justified it to herself. At least I've helped make her lonely day a little brighter. Then a pesky voice piped up. If you helped so much, why was she still talking about her loneliness when she left? Trying to ignore the thought, Sherrie went to bed.
6:45 A.M.
Sherrie returned to the present. "No use crying over spilt time, I guess," she mumbled to herself as she struggled to close the zipper of her black linen skirt. Her favorite suit had become, as many others had, too tight. Middle-age spread so soon? she thought. This week, I really have to go on a diet and start exercising.
The next hour was, as usual, a disaster. The kids whined about getting out of bed, and Walt complained, "Can't you get the kids to the table on time?"
7.45 A.M.
Miraculously, the kids made it to their rides, Walt left for work in his car, and Sherrie went out and locked the front door after her. Taking a deep breath, she prayed silently, Lord, I'm not looking forward to this day. Give me something to hope for. In her car on the freeway, she finished applying her makeup. Thank the Lord for traffic jams.
8:45 A.M.
Rushing into McAllister Enterprises where she worked as a fashion consultant, Sherrie glanced at her watch. Only a few minutes late. Maybe by now her colleagues understood that being late was a way of life for her and did not expect her to be on time.
She was wrong. They'd started the weekly executive meeting without her. Sherrie tried to tiptoe in without being noticed, but every eye was on her as she struggled into her seat. Glancing around, she gave a fleeting smile and muttered something about "that crazy traffic."
(Taken from Boundaries: When to Say Yes, When to Say No to Take Control of Your Life by Dr. Henry Cloud and Dr. John Townsend Copyright © 2001 by Zondervan. Used by permission of Zondervan. www.zondervan.com)