The Legacy Journey: How Is It Different?
By now you've heard a lot about Dave's brand-new class, The Legacy Journey. The response has been overwhelmingly positive to this much-anticipated follow-up to Financial Peace University(FPU).
Still, one question keeps finding its way to the surface: Is The Legacy Journey right for me?
Before we answer, we've got a few questions of our own. Is exercise right for you? Is healthy eating right for you? Is chocolate cake—just once in a while, of course—right for you?
All joking aside, we're here to answer your question. We'll even keep it short and sweet. Because all you really need to know is what makes The Legacy Journey different from FPU.
So let's dive in!
The Focus
FPU: This class covers all seven Baby Steps—from saving up $1,000 in a baby emergency fund to living and giving like never before. It's broad, but thorough. Most class members are focused on learning to do a zero-based budget every single month and working the debt snowball.
The Legacy Journey: Dave's new class takes a deeper look at Baby Steps 3 through 7. That means you don't have to be retired, sitting on the beach, and sipping a cold drink to apply the weekly lessons to your life today. You simply need to be interested in learning more about investing, estate planning, generational giving or safeguarding your family legacy. That's it!
Local experts you can trust.
Find an ELP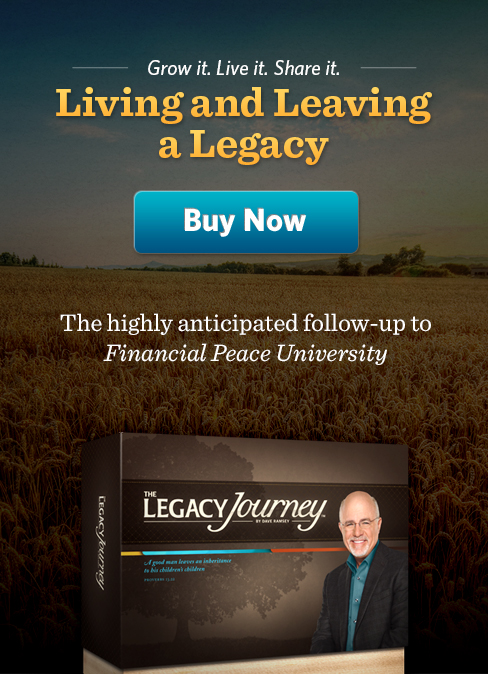 The Homework
FPU: Once home from class each week, the homework is all about communication. Members will learn how to talk about money—with their spouse or an accountability partner—in a positive and productive way. Budget committee meetings are a great way to practice this new skill. And members will get a chance to work on the budget and other money plans week after week.
The Legacy Journey: Homework in The Legacy Journey drives members to complete their Legacy Box—a box full of documents needed in case of emergency or death. Dave explains each document in the class. When members get home, it's their job to pull the information together. Documents are gathered over the course of the seven weeks. Members will also sit down with their family to create a family constitution to complete the box.
The Target Audience
FPU: This first class is an introduction to God's ways of handling money. It's the perfect place to find the basics of budgeting as well as saving and spending wisely. FPU sets a firm foundation for The Legacy Journey to build upon.
The Legacy Journey: Dave's second class is ideal for any FPU graduate. Where FPU equipped members to take charge of their money, The Legacy Journey encourages attendees to make the most of their money. If you haven't taken FPU, but you have been acting according to God's and Grandma's money wisdom for years, then you're ready to jump right in!
Of course, it's not just about money. Living and leaving a legacy requires making the most of your time, talents, resources and relationships. That's why The Legacy Journey covers it all.
The bottom line is this: no matter where you find yourself in your financial story, we've got a class that is right for you. Our ultimate goal is to see you living and giving like never before! Why wait another day?