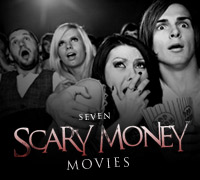 When you think of Halloween, you probably think of credit card addictions, the FBI, debt collectors, Ponzi schemes, or a house that is falling apart.
No?
Well, that's what the Dave Ramsey group thinks of this time of year. Dave talks to people every day who encounter skeletons, goblins, spider webs and spooky houses … but in real life with their money.
To illustrate some of these on-air conversations, we turn to Hollywood and dig up some money-related movies that will definitely send shivers up your spine if you experience them in real life.
The Money Pit
Right now is a great time to buy a house. In most parts of the country, prices are cheap and interest rates are historically low. So if you're in the market for house, watch this movie starring Tom Hanks and Shelley Long. Sure, it's a great time to buy a house, but that doesn't mean you need to make a bad decision. The Money Pit will keep the dreaded "house fever" at bay.
Wall Street
Greed. Ruthless power. Commercialism. That's all pretty scary stuff. And in this 1980s flick starring Michael Douglas and Charlie Sheen, you'll get to see the horrors of financial spending gone wild.
Confessions of a Shopaholic
One woman has a frightening addiction to credit cards and spending. Debt collectors call. She attends Shopaholics Anonymous. She freezes her credit cards in a big block of ice. Her life is a financial mess until she lands a good job and figures out how to get out of debt.
Other People's Money
Danny DeVito takes on the role of Larry the Liquidator. Basically, old Larry is a heartless investor who rips off companies and makes millions of dollars selling their assets. You might want to watch this flick to learn how to stay away from guys like Larry.
Enron: The Smartest Guys in the Room
This documentary is the true story of how one corrupt company ripped off thousands of people. Enron is one of the most notorious companies in the history of the United States thanks to a fraud scheme that made billions of dollars and resulted in one of the largest and most complex bankruptcies in U.S. history. Sound scary enough?
Boiler Room
A college dropout who runs an illegal underground casino decides to straighten up and takes a job at brokerage firm in New York. But, as luck would have it, the firm turns out to be shadier than his casino. When the FBI gets involved, things get even more frightening.
Trading Places
This hilarious movie starring Eddie Murphy and Dan Aykroyd digs into the ethics of business and how a financial windfall—and a sudden loss of money—can affect us. Trading Places is a light-hearted movie, but it still says a lot about the power of money.
What are some other scary movies about money you would add to the list? Leave a comment below.