Personal Development
Practice Makes Perfect: 6 Takeaways From Olympic Champions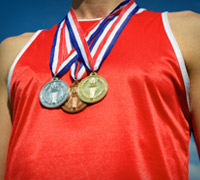 "We all have dreams. But in order to make dreams come into reality, it takes an awful lot of determination, dedication, self-discipline and effort." —Jesse Owens
During the next two weeks, the eyes of the world will be on London, as more than 10,000 athletes gather together for the thirtieth Olympic Games.
Whether or not you're a sports fan, there's something about the Olympics that brings out passion in all of us. For two weeks, we become super fans of these individuals who have spent thousands of hours becoming the best in the world at what they do.
Ever since the first modern games were held in Athens in 1896, hundreds of thousands of elite athletes have stepped foot on the track, dived into the pool, jumped onto the balance beam, and taken part in hundreds of other Olympic sports.
But of those elite athletes, there's another group—the elite of the elite. They are the multiple gold medal winners, the world record holders, the icons of their individual sports.
What can we learn from these world-class athletes? Quite a bit, actually. Most of us will never perform in the Olympics, but we all have something to learn from them.
Some examples:

Lead others to financial peace! It's easier than you think. Learn how.
Florence Griffith Joyner
The late "Flo Jo" is called "the fastest woman of all time." She still holds world records for the 100 meters and 200 meters, which she set in 1988 and which have never been seriously challenged. Flo Jo wasn't only known for her speed, but she was also known for her glamorous style—the hair, makeup, fingernails and flashy track outfits. Sadly, she passed away from a seizure in her sleep in 1998 at the young age of 38. During her career, she won three gold medals and two silver medals.
The lesson: Flo Jo was "flashy," but she backed it up with her performance on the track. You can talk about getting your life together and getting out of debt all day, but eventually you're going to have to do something about it.
Jesse Owens
He might be the most famous U.S. Olympian ever. Owens, an African American, won 4 gold medals at the 1936 games in Berlin where Hitler was in attendance to promote Aryan principles—which said ethnic Africans were inferior. Despite segregation, racism and growing up in poverty, Jesse Owens overcame the odds and shocked the world to become one of the most decorated Olympic athletes in American history. The image of Owens accepting the gold medal in front of a stadium full of people giving the "Heil Hitler" signal is iconic in sports history.
The lesson: Ignore the people who distract you from believing in yourself. No one can tell you what you can or cannot do … even Hitler.
Michael Phelps
This guy breaks world records like Justin Bieber breaks hearts. Going into the 2012 Olympics, Phelps has set 39 world records during his career, including 7 records that still stand. In 2001, when he was 15, he became the youngest man ever to set a swimming world record. He owns 14 gold medals and went 8 for 8 in a perfect gold medal sweep at the 2008 games in Beijing. Mark Spitz, one of the greatest swimmers ever, said this about Phelps: "Not only is this guy the greatest swimmer of all time and the greatest Olympian of all time, he's maybe the greatest athlete of all time."
The lesson: Phelps set a world record when he was 15. Never let your age get in the way of accomplishing your goals.
Carl Lewis
He was named "Olympian of the Century" by Sports Illustrated in 1999 after participating in 4 Olympic games and winning 9 gold medals and 1 silver medal. Lewis dominated the long jump and, in 1996, he became only one of three Olympians to win the same event four times. He was the first track and field star to make a living professionally. Prior to Lewis, track and field was mainly an amateur sport.
The lesson: Dream big. Your earning potential is only limited by your imagination. Before Lewis, track and field athletes couldn't make an income off their talent. He paved the way for thousands of athletes to make a living.
Mary Lou Retton
At only 4'9" tall, and with an unforgettable smile, she is one of the most recognizable Olympians in American history. Retton was the first female gymnast outside of Eastern Europe to win the all-around title at the Olympics. As a child, she was inspired by Nadia Comaneci, who was the first female gymnast to score a perfect 10 in an Olympic event. After winning gold in the 1984 Los Angeles games, Retton was inducted in the International Gymnastics Hall of Fame.
The lesson: Like Retton was inspired by Comaneci, find someone inspirational in your field and follow them. Whether it's a close friend or a successful celebrity, find out what made them win and do the same thing.
Wilma Rudolph
In 1960, Rudolph became the first American woman to win three gold medals in track and field during one Olympic Games. Even though she was an African-American during a time of segregation in the U.S., Rudolph became a star—thanks to the first international television coverage of the Olympics. As a child, she was born premature and suffered from polio, which caused infantile paralysis. She wore a brace on her left leg until she was nine. At the Rome Olympics in 1960, she was called "The fastest woman on earth."
The lesson: Rudolph overcame childhood polio and racial bias to become the fastest woman in the world. Do you have obstacles in your life? Run right through them.
This year, more athletes will step out of the pack and write their names into history. So as you watch the games on television this year, remember the effort that every single athlete made to get there.
How can you duplicate that in your own life? What barriers will you crash through, goals will you achieve, and dreams will you make a reality? Thousands of people have done just that by changing their stories with Dave's life-changing course. The brand-new Financial Peace University will show you how to get rid of debt, manage your money, spend and save wisely, and much more. Learn more about the new class now!