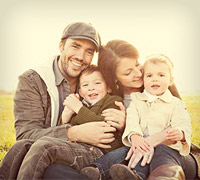 World-renowned photographer Jeremy Cowart and his wife, Shannon, learned the hard way why it's so important to have a plan for your money.
"We're both spenders, so it's been a struggle. We get money and think, 'Oh, let's start going out to eat more, or let's go buy this...'" Jeremy explained.
They used to have a plan for their money and even paid off over $30,000 of debt. Then, they got lazy, stopped budgeting, and fell back into the same patterns they had before. Jeremy said, "We got a credit card, and we just slipped back into the same way of thinking."
Since then, the Cowarts have gone through Financial Peace University (FPU) for a second time and have refocused their efforts on making their money truly work for them instead of wondering where it went. They're living with a purposeful plan for their money and are focused on their goals—together. They're even beginning to teach their kids about money and change their family tree.
As someone who works in a creative career, it was a struggle for Jeremy to get on a plan with his money. Here he answers six questions about his plan and how he's changing his family tree.
Why do people who work in a creative career need a plan for their money?
JC: Artists tend to be free spirits. We're intimidated by spreadsheets, money and budgets, because it's not something we want to hear or talk about. However, I think it's so crucial for artists to have a financial plan. For photography, it's expensive to first start out because of all the gear. So we convince ourselves that getting a credit card is okay. But there are other ways to start out instead of buying everything on credit.
What is your plan to become debt-free?
JC: We have some plans in place. Dave says to sell pizzas if you have to. I'm not selling pizzas, but I'm able to do some photo shoots I wouldn't normally do. I'm using those photo shoots to become debt-free again. We are soaking up everything that FPU is about.
What made you and Shannon decide to go through FPU again?
JC: We've been terrible with our money. Many older adults are nearing retirement, unprepared financially and I don't want my life to look like that in 30 years. So now is the time to change our lifestyle and the way we handle money. We want to live as frugally as possible. I want to invest, save, and give away my money.
How are you teaching your kids about money?
JC: I don't want my habits to pass down to my children. Our kids are four and two, and we're already giving them chores to earn a commission. We're teaching them how to save, give, and spend their money. We want to teach them that they have to work in order to make money and spend it.
What advice do you have for individuals trying to pursue their dreams?
JC: Go for it. Create a story in your life and have risks and adventures. Step out of your comfort zone and pursue what you are called to do. If you have a dream, go chase it! At least you'll know that at the end of the day you tried.
That's what I've seen in my life. God has given me ideas, and most of the time they've worked out. I've learned to stay open to His call and take that first step in obedience and see what happens.
What are your keys to living a passionate and productive life?
JC: People in third-world countries have absolutely nothing. But they're content because they don't have the option to fill their God-shaped holes with materialism. You see that they are nothing but smiles walking around in the middle of devastation. They have to rely on God.
I think our mainstream culture can learn so much more from a third-world country. We live above our means. I'm realizing more and more that even when I do have money, it just doesn't fill anything in me. None of the stuff that America teaches will fill us is filling me.
Instead of continuing to fall into that trap, I'm getting more involved with my community and global issues that God is placing on my heart. I'm able to use these issues as a platform for my work. I feel like I'm leaving a legacy for my children rather than just being a famous photographer.
Just like the Cowarts, you too can choose to reset and refocus your efforts on becoming free from the bondage of debt. It's never too late! Dave Ramsey's Financial Peace University will help you do just that, so you never have to go at it alone. Included is a lifetime membership so that you can go through the course as many times as you'd like! Learn more about this life-changing program that has helped more than one million people—including Jeremy and Shannon Cowart—get on the path to changing their habits today and their family trees forever!
Photo Credit: Krystal Mann