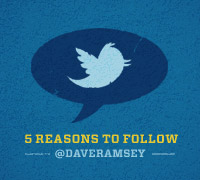 Big news – Dave Ramsey is now on Twitter! No, we're not talking about @RamseyShow, the official account for his radio show. We're talking about Dave's personal account. Yes, he has jumped on board the Twitter craze and is enjoying being a part of it all!
Here are five things to know about Dave's personal Twitter account:
It's Directly From Dave
Some celebrities hire others to do their tweeting for them. Not Dave! Now that he has added "hashtag" and "retweet" to his daily vocabulary, get ready, because you never know what he will cram into 140 characters.
It's Not All About Money
Although a lot of the comments Dave posts to his Twitter account are about money (he is the money guy, isn't he?), there's much more. Dave often tweets about whatever comes to mind, whether he is at home or the office. It's the best way to get a behind-the-scenes look at Dave's life.
It's A Glimpse Into His New Book
Dave is writing his first new book in seven years, called EntreLeadership. As he's writing and editing, he's often posting his thoughts about the book on Twitter.
It's A Conversation
Social media is all about conversations. Dave really does watch what you say on Twitter and sometimes personally responds. Post a question or comment, and you just might get a reply from the big man himself!
It's Easy To Follow
It takes only a few minutes to create a Twitter account. Just go to twitter.com, click the "sign up" button, and two minutes later, you're set. Next, visit Dave's page at twitter.com/daveramsey and click on the "Follow" button. Now when you log in to your Twitter account, you'll automatically see Dave's most recent posts.