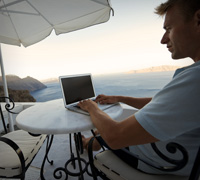 For many business owners, summer is the slowest time of the year. The kids are out of school, customers or clients are on vacation, and there is just not much going on. It's the perfect opportunity to coast, right?
Actually, to a small extent, yes. As a leader and business person, you need to take a break to re-energize and refocus, even if it is just a small one. But once you return, use all that renewed energy to improve your business before the rush. Stay productive now to reap the benefits throughout the year. If you are not sure where to start, here are a few ideas to get you going.
1. Grade Yourself
Your children may not receive a report card this summer, but it is a great time to give yourself a grade. One way to gauge your performance is to revisit your goals. Pull out that list and see how you are doing in every area of your life.
Are there some parts you have been avoiding and need to get back on track? When teaching goal setting, motivational speaker Zig Ziglar always speaks about the "Wheel of Life." The wheel has spokes that represent each area of our lives, including career, financial, spiritual, physical, intellectual, family and social. In order to be successful as a whole, we must address each area.
For Dave, career and financial come easy. But he learned that he still had to be intentional and put forth an effort in every area in order for his life to be successful. If you leave one side of the wheel flat, he says, you have a flat tire. A flat tire will take more effort to roll your life forward, and just like a car with a flat tire, your life will have a lot more noise and unwanted heat.
2. Hit The Road, Jack
It's as American as apple pie and Chevrolet®. Actually, you might want to take a Chevrolet, and a slice of pie is always a good thing. While business is slow and you're not overwhelmed with 1,000 things to do, take a road trip strictly for business. Remember, though, it doesn't have to be a grand, month-long journey. A couple of hours in the next town or suburb will do. Check out the competition. Visit other small business owners to see what they're doing right, pick up some ideas, and get re-inspired. Or simply clear your head on a drive and let the creativity flow.
3. Meet The People
With picnics, barbecues and hometown festivals aplenty, summer is an awesome time to network. Start attending community events and get to know people. Sales are frequently made through the connections we make with others. And the more people you know, the more opportunities present themselves. So make time for others. The benefits are well worth the effort.
4. Knowledge Is King
Did you know the average millionaire reads one nonfiction book a month? And when asked in a recent poll to list the keys to their success, they ranked hard work first, followed by education. There's no way around it: Leaders are readers. Rip a page out of their playbooks of success and become a bookworm. Dave is such a proponent of reading, he requires all new team members to read five essential books in their first 90 days on the job. He also has created a list for EntreLeaders. His "must reads" include:
So this summer as the weather heats up, don't cool down business-wise. As Dave says, the best way to create unstoppable momentum is to keep moving, keep moving, keep moving—no matter the season.
No leader should lead without these principles. It's what your team members need to see in you, and what you want to see in them. Learn more about the EntreLeadership Live Events, and put Dave's 20 years of proven business principles to work for you.
In 20 years, Dave has grown his company to a national winning brand with more than 300 team members who have impacted millions of lives. His company has been named one of the "Best Places to Work in Nashville" four years in a row. EntreLeadership is how he's done it and how you can do it too. Get your copy of the new book now!