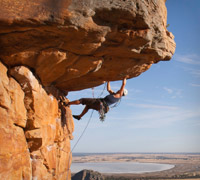 Entrepreneurs, as a whole, are natural risk-takers. They are confident and know what it takes to get the job done. Nothing gets in their way. But the character traits that lead them to go out on their own and conquer the world are also the ones holding them back.
Winning requires much, much more than talent and stick-to-it-tiveness. You have to be a leader your team wants to follow—the person who elevates everyone and makes them passionate about their jobs.
The good news is that leadership can be learned, no matter how hard-driving your personality. In fact, it's a significant part of what Dave teaches in EntreLeadership Master Series. Here are a few of the principles he uses to inspire his team.
Look in the Mirror
Dave readily admits that when he first started his company, he wouldn't have won any awards for his mad leadership skills. And then he realized what was holding him back was staring at him in the mirror—himself.
In fact, business/leadership author John Maxwell has given it an official name—the Law of the Lid. Your organization can't grow beyond your leadership capabilities. You are the lid. Luckily, there's a fix. "You can decide who you want to be and get about the business of becoming that person," Dave says.
Hire Rock Stars
Great leaders know that they are nothing without an equally awesome team to back them up. To quote one of the world's corniest songs, they are "the wind beneath your wings." (Sorry, Bette!) That's why it is so important to take your time when hiring. No matter how much you need someone, the cost of a bad hire far outweighs the time it takes to properly screen a candidate.
At Dave's company, hiring is taken so seriously, each prospective team member is interviewed at least four times, including one meeting with his or her spouse. The candidate is also required to send a personal budget and take a personality test to ensure their style fits the job. Only rock stars are allowed.
Communicate
What's the best way to kill morale and boost discontent and anger? A failure to communicate. Always let your team know what's going on, both good and bad. Intentionally create a culture of communication, and you'll quickly see the rewards. As Dave says, "Don't be a mushroom communicator, leaving your people in the dark and feeding them manure." It stinks.
Treat Them Right
If you want a team that's loyal, creative and willing to follow you to the ends of the earth, adhere to the Golden Rule: "Do to others as you would have them do to you" (Luke 6:31). Simply put yourself in their shoes. When you would expect to be praised, praise. If there's a problem you would want help with, lend a hand. If you would expect a pay hike, give it. No matter the situation, stop and think, How would I like someone to treat me?
John Quincy Adams once said, "If your actions inspire others to dream more, learn more, do more and become more, you are a leader." By following these basic principles, you will be well on your way to living up to Adam's description, allowing you to win in business and in life.
This article originally appeared in the EntreLeadership Advisor, Dave Ramsey's business and leadership newsletter. Sign up now to get it delivered straight to your inbox twice a month.