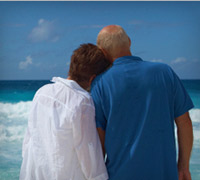 Quick! Name the top three threats to your retirement security. Need some help? How about these:

Volatile stock market
Lack of company pensions
Stagnant household incomes
Skyrocketing health care costs
Cuts to Medicare and Social Security
Supporting grown kids living at home



Were any of those on your list? These are the topics we hear most about, aren't they? Actually, none of them has more power to threaten your retirement than the following three things:
1. Debt
The average American is approximately $47,000 in debt, including student loans, credit cards, car loans, etc. With the average income now $41,000, people are sacrificing their pay for years (and years) to pay off that debt.
But if you live without debt, your income can build your retirement nest egg instead. Even someone earning a modest income of $30,000 can save $1.3 million for retirement with 30 years of diligent investing. But if he spends 15 years in debt with car loans, credit card bills or student loans, he's looking at only $189,000 after 30 years of work.
The takeaway: Get out of debt as soon as you can, and stay out. Invest as soon as you're debt-free and have an emergency fund in place. Time is your greatest ally when you're saving for retirement.
2. Lack of Planning
Only 42% of workers have attempted to determine how much money they will need in retirement. As a result, 60% of workers have saved less than $25,000, and about a third believe they'll need just $250,000 for a comfortable retirement.
Successful retirement planning starts when you take responsibility for your future. Find out how much you'll really need to retire well and adopt a simple strategy that will allow you to reach that goal.
Invest 15% of your income in tax-advantaged plans.
Select mutual funds in these categories: growth and income, growth, aggressive growth and international.
Start by investing in your 401(k) up to your employer's match.
Invest the remainder of your 15% in an IRA or Roth IRA.
Stick to your investments, no matter what's going on in the stock market.
3. DIY Investing
While you are the one making the decisions about your retirement savings plan, research is clear that you do not need to do it on your own. Do-it-yourself investors often react emotionally to their investments' performance, being overly optimistic when they're up and panicking when they drop.
That behavior can knock big percentage points off your returns and put a dent in your savings plan. A professional investing advisor who's seen the stock market's ups and downs can give you the objective advice you need to stay on track.
Find a Pro You Can Trust
One of Dave's investing Endorsed Local Providers can help you get your plan started and show you how to stick to it. Your ELP has the heart of a teacher and will answer all your questions. Contact your ELP today!