If you're a fan of classic horror movies, there's nothing like this time of year for a good, old-fashioned scare-fest. From demon-possessed Plymouths to slime-covered aliens bent on revenge, you've seen it all. But there's still one horror movie mainstay you shake your head at: the Clueless Casualty.
You can spot Clueless Casualty from a mile away. They make horrible decisions that always—always—lead to their grisly demise. You shout at the screen, "Don't open that door/go downstairs/answer the phone!" to no avail. Clueless Casualty, who wants nothing more than to escape the bad guy, will inevitably run smack into him, and—well, you know what happens next.
Weird Real-World Parallel
Oddly enough, folks who are investing for retirement often set themselves up to be Clueless Casualties. They're not running for their lives from fictional, knife-wielding, mask-wearing madmen, but they do desperately want to avoid their most overwhelming retirement fear: outliving their retirement savings.

Be confident about your retirement. Find an investing pro in your area today.
Like Clueless Casualties, investors are notorious for making poor choices that can potentially bring them face to face with that fear. DALBAR, a market research firm, has examined mutual fund investor behavior for 20 years, and each year, their report shows that investors consistently sabotage their savings by making choices based on fear instead of reality.
According to DALBAR, investors are overly sensitive to big market swings—even economic or political news will send them into a tailspin. They forget all about their long-term investing strategy, dumping funds after the value of their funds has dropped. Then they wait until the market is in recovery and fund prices have risen to get back in the game.
"At no point in time have average investors remained invested for sufficiently long periods to derive the benefits of the investment markets," DALBAR's report says. In other words, investors are their own worst enemy when it comes to building their retirement nest egg because they don't have the patience to wait out market swings.
The Gory Truth
So what does that mean in real numbers? According to DALBAR's calculations, the gap between what investors earn and the actual growth of the stock market is nearly 7.5% over the last 30 years. Here's what that looks like for folks who are retiring today: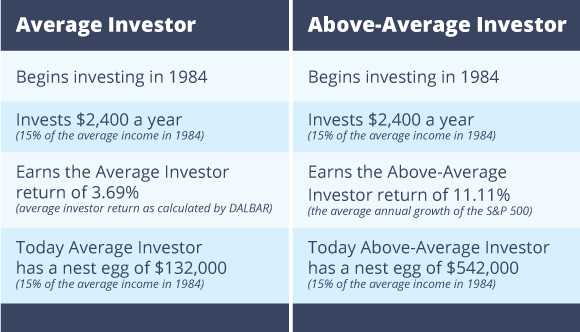 A half-million dollar nest egg may not sound like much for 30 years of investing, but we didn't account for raises or inflation in our calculation. So let's fast-forward a few years.

Average investors who started saving for retirement 20 years ago and still have 10 years until retirement could end up with just $197,000 while Above-Average Investors have the potential to retire with $805,000. For folks just starting to save for retirement today, Average Investors are looking at $366,000 in retirement savings in 30 years, but Above-Average Investors could have as much as $1.5 million!
We're sure you'd agree. You'd feel much more confident that your savings will last throughout retirement if you had between $805,000 and $1.5 million lining your nest egg.
Doomed to Their Fate?
Investors have been shooting themselves in the foot for so long that the DALBAR folks believe they are as doomed as our Clueless Casualty in a Freddie-meets-Mike slasher mash-up. "Attempts to correct irrational investor behavior . . . have proved to be futile," the report says. "Imprudent action continues to be widespread."
But we're more optimistic than that. In fact, we think you're just a few smart choices away from successful retirement investing and a secure retirement:
1. Get Great Advice. Isolation is the enemy of sound decisions. Just consider what a few months in a deserted hotel did to poor Jack Torrence in The Shining. Don't go it alone! Work with an experienced investing advisor who will help you maintain your long-term investing outlook even when the stock market's ups and downs leave you feeling twitchy. Experienced advisors have been through market cycles many times, and their objective advice can keep you from reacting in fear.
2. Ask lots of questions. Any horror-movie aficionado will tell the scariest bad guys are the ones you never really see. Without the full picture, it's natural to be afraid, so when it comes to investing, leave no detail to chance. Ask questions until you understand everything: How do mutual funds work? How can you invest and still keep your money safe? How do you know your investments will grow enough to meet your retirement needs? Remove the mystery and you'll feel brave enough to hang on for the stock market roller coaster ride even when other investors jump off.
3. Remember, you're still in charge. Eventually, in every horror movie a survivor emerges. They're the ones who call the shots and finally get themselves and anyone else who's still around to safety. When it comes to your retirement, no one will care more about the end result than you do, so even though you're working with a trustworthy investing advisor who's more experienced than you, the final decisions are your responsibility. Use your advisor's advice and experience to make your own solid investing choices based on facts—not emotion.
Most people consider retirement their own personal scare fest. But with the right mindset and an investing advisor with the heart of a teacher, you can do more than survive retirement—you can thrive. Don't be another clueless casualty! Let us put you in touch with an investing professional who has earned Dave's recommendation for trustworthy advice and excellent service today.