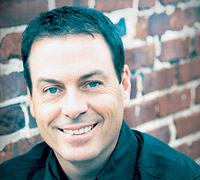 When Chris Hodges planted Church of the Highlands in Birmingham, Alabama, in 2001, they met at a local high school. Now this church of more than 12,000 has helped to plant 188 other churches!
At the 2010 Catalyst conference in Atlanta, Chris spoke about three principles it takes to build this kind of momentum in your church.
Structural Momentum
"These are foundational things like solid policies, good church government, clear vision and values—not just clear to you, but everybody knows what they are and they're simple and being lived out," Chris said. "There are a lot of people and churches that don't have good government. They don't have good financial policies in place, and they are just drowning all the time."
Chris is a business guy who was raised in a "no debt, lots of margin" kind of culture. He's implemented principles based on what he learned from his dad at Church of the Highlands since day one.
One thing written into their bylaws is that the church budget never exceeds 90% of the previous year's income: "In 2010, the church operated on 90% of 2009's income. We're on a 30% growth rate, so we have 40% margin," he said. "I'm not under any pressure, which means I get to say yes to almost anything my staff asks." That brings a lot of life to what they're seeking to do for the Kingdom.
While most churches do upward projection, Chris recommends the 90% approach in light of Proverbs 21:20: "In the house of the wise are stores of choice food and oil."
"You can slap the life out of the church just by being overly ambitious," he said.
Church of the Highlands also has budget ceilings you won't find at many churches. While most churches budget 40–60% on salaries, Church of the Highlands has never exceeded 35%. In fact, they are currently spending 23% on salaries—not because they don't pay their people well, but because they're strategic about the positions they need and how salaries fit into the overall church budget.
Generous giving is another key component of what they do. Chris believes in modeling generosity as a church. "I think the church ought to tithe," he said. "We expect the people to tithe, and so we take the first 10% of everything and give it away."
A solid structure is a foundation that every church needs. "If you build on a bad structure, it doesn't matter if you have the same music, format and small groups as somewhere else. It's not going to work."
Systematic Momentum
Chris is a big fan of the book E-Myth. The premise of it is that you don't have a good system unless it can be done in 5,000 places.
"If you don't create something that is actually systems-dependent versus people/personality-dependent—something that can be used as a prototype—then you don't create something simple enough," Chris said. Keeping it simple is an art that Church of the Highlands constantly works to maintain.
Spiritual Momentum
Spiritual momentum is that presence—that vibe. "It's that supernatural 'I can't explain this but God's here' thing," Chris said. You can actually produce spiritual momentum by focusing on a strong worship culture, fasting and prayer.
Hillsong United has been one of Chris' greatest influences when it comes to worship. "When you go there, there's an innocence, a sincere passion that'll mess you up," he said. "It's just because the presence of God is so strong. They could sing 'Mary Had a Little Lamb' and people would be getting saved!"
To build an atmosphere of prayer, Church of the Highlands has two 21-day prayer gatherings every calendar year. Every morning at six a.m., the church gathers for prayer. "Thousands, literally thousands, of people come out to pray," he said.

Chris also focuses on teaching people to dig into the Word for themselves. "I think churches need to come back to the focus on the Word of God… teaching people how to be self-feeders—really getting people into the Word again. "
Chris uses the metaphor of the tabernacle to illustrate the importance of each type of momentum. One tribe had the responsibility of carrying all the posts. That's the structure. The systems are represented by those who carried the tent that covered the posts. The last group had the articles and the furniture—that's the sanctuary—and that's where God's presence was kept. That represents spiritual momentum.
"Most people do one or two of these things but never all three," Hodges said. While many churches are solid in a couple of the areas, they're left wondering why things aren't working—and Chris believes that's because it takes strength in all three areas to produce true momentum.
Which type of momentum would you like to see more of in your church?
We want to help you build momentum with your congregation. Financial Peace University can help your church live and give like never before!