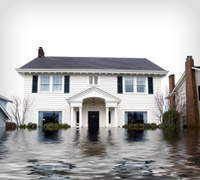 Across the nation, homeowners are dealing with underwater mortgages—mortgages that are more than the homes are worth. Instead of making payments on an asset that's losing value, some homeowners have chosen strategic default. They stop making their payments and allow the banks to foreclose on them, even though they can afford to make the payments. They don't know it, but they're wrecking their future.
If you can pay a bill you promised to pay, pay it—even if it's unpleasant, inconvenient and the vacation fund doesn't get funded. You have options that will allow you to save your credit score and keep your integrity.
Wait It Out
Don't fall for the myth that America is never going to recover. Yes, the housing market is suffering and will continue to for a while with short sales and foreclosures dragging home values down. But Dave is so confident in the future of real estate that he is personally buying as much as he can as fast as he can—it's on sale! He still believes that home values will recover, and so can you.
If you are in a position to continue making your payments, you should do it, regardless of your home's current value. Stop watching the news and look to the future.
Increase Your Income
Many homeowners are dealing with job loss. Without a substantial savings cushion, you may think dumping your home is your best chance at survival.
But you've got to be willing to do what it takes to hold on to your home. Cut your budget to the four walls: food, utilities, transportation and, yes, shelter. Some part-time work may be all you need to cover your house payment until you land a full-time position.
Short Sale
If you truly can't pay your bill, you'll need to sell your home in a short sale before you're foreclosed on. Get with a real estate agent who's experienced in short sales to help you, so when you get an offer, you're ready to move ahead as quickly as possible.
Because a short sale means you're selling your home for less than the mortgage amount, get the bank to agree to a short sale without recourse, which means they won't come after you for the remaining amount. This option will damage your credit, so be prepared to rent for a few years.
Always Work With A Pro
Dealing with today's housing market can be messy. Whether you're buying or selling, you need the advice of an experienced professional. Dave's real estate Endorsed Local Providers are experts in your area who can help you get a great deal on a new home or get your current home sold for top dollar. Contact your ELP today!