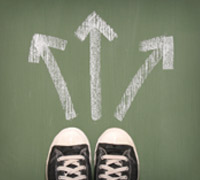 Even though it's been 10 years since I started college, I still remember how excited I was to decorate my dorm room, join every club and activity I could join, and experience what was sure to be the most exciting part: living on my own.
Looking back now, there are so many things I wish I'd known then. I could have saved myself a lot of anxiety, time and money if I'd been prepared for the challenges I would face.
I've come up with three things today's graduating seniors need to know before they set foot on a college campus. The sooner they know, the easier it is to make a plan. So share these with the teens in your life, and hopefully they can avoid many of the mistakes I made!
Don't sign up for the credit card to get the free T-shirt.
Who doesn't want an XX-large men's shirt with a bank logo on it? It's a college wardrobe necessity, obviously. But, let's get real.You're signing up for a credit card to get a free T-shirt you don't like and won't wear. All the while you tell yourself that you'll cut up the credit card. But, 30 days and a reality check later, you realize that ugly T-shirt has cost you a few hundred bucks because you couldn't resist using the card. Trust me—don't sign up for the credit card. It's not worth it.
When it's online, it's permanent.
Facebook and Twitter weren't around when I went to college. Unlike today's college students, I wasn't tempted to take pictures of my reflection in the bathroom mirror and post them online for my 1,000-plus "friends" to see. Nor did I fear that anyone else would take a picture of me in a less-than-favorable moment and post it online. Listen, if it gets online, it's permanent. And it can hurt your reputation with anyone from your 1,000-plus "friends" to your future employer. Be smart about what you allow to represent you online.
Count the costs.
College offers a world of opportunities and experiences, but almost all of them come with a price tag. Everything from choosing a meal plan, to taking a road trip, to joining a club or intramural team—even choosing to attend, or skip, a class has a dollar figure attached. (Trust me, the sooner you realize how much it costs to skip class, the easier it is to get out of bed and go.) Learn how to make a budget now, and save up for these things before summer. John Maxwell says, "A budget is simply telling your money where to go, instead of wondering where it went." My best advice is to count the cost and have a plan.
What are some lessons you can pass on to the recent graduates? Share your advice by leaving a comment below.
Send them off with practical tools
The Graduate's Survival Guide was created just for high school seniors to empower them with practical how-tos for navigating daily college life. It includes an in-depth Q&A book and a four-part DVD that talks about what they can expect and how to be prepared.