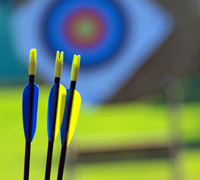 Are you in the mood for a life-changing year? Need some suggestions on how to make it happen? Here are three simple, totally achievable goals that will change your life—at least financially.
Pay Off Debt or Reach Your Savings Goal
Why you should do it: You can't be surprised that we'd suggest paying off debt and saving money will change your life. There's a lot of hard work involved, but once the debt is gone, or you've finally built up your emergency fund, you can focus on your future and changing your family tree.
How to do it: Whether you're paying off debt or working toward a savings goal, the key is commitment. Understand that it will take some sacrifice to reach your goal, but it's worth it! Here are some suggestions to make the process a little easier:
Make mini-goals – Break your big goal down into 12 monthly goals. It will work better with your budget, and you'll be able to gauge your progress.
Make it automatic – Set up automatic withdrawals to pay your bills or transfer money to your savings account. It's much less painful that writing the check yourself.
If you mess up, don't give up! – Any progress toward your goal is counted as a success. Just get back on track as soon as you can.
Compile Your Legacy Drawer
Why you should do it: It's no fun to imagine what your family would go through if something happened to you, but we've got to be grown-ups, right? No one wants to leave their family in a confused mess, searching for bank account information, insurance policies and wills. The Legacy Drawer is one file that contains all the information your family will need to pick up where you left off.
How to do it: Just put yourself in your family's shoes. What information would you need? For starters, your drawer should include:
Your will and estate plan
All financial account information
Funeral instructions (for you and your spouse)
Insurance policies
Your budget
Tax returns
Passwords
Label everything clearly so anyone can find the information they need in a matter of seconds. It's also a good idea to keep a copy of all this information in a safe deposit box. Get detailed information about compiling your Legacy Drawer.
Seek Wise Counsel
Why you should do it: When you need to address more complicated financial tasks like taxes, investing or insurance, it's wise to consult experts who can save you time and money with their expertise. It's also important to find experts you can trust, who will answer your questions so you can make your own decisions with confidence.
How to do it: Dave has built a nationwide network of financial experts who are committed to giving you the same great advice he would. Each Endorsed Local Provider (ELP) has the heart of a teacher and will make sure you understand all your options before you make any decisions. Start building your expert financial team today!