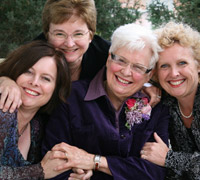 To honor mothers past and present during this special time, Dave's Facebook fans told us the best lifelong money lessons they learned from their moms. These meaningful legacies are ones you can't put a price on!
Julie: You can get the things you want if you work hard enough and save. You might just have to wait a little longer.
Eric: Don't spend it if you don't have it!
Kristie: It's not the "big money" items in life that children remember. It's the fun (and often free) memories that children take into their adulthood!
George: My mom never bought firecrackers. She said if we wanted to see money go up in smoke she'd light a dollar bill on fire in the kitchen. I'm 33 and still don't waste money on firecrackers.
Mary: Keep some cash in your purse for emergencies. And a new pair of shoes is not an emergency.
Denise: I am blessed to have had a mother who grew up during the Depression. Despite hard times and trying to raise seven children, she taught me to be thankful.
David: Never loan money to friends. If you have the money to loan, just give it instead. Doing so will keep the friendship.
CeAnne: Don't buy it unless it is on sale! Who goes shopping when they don't need something and it isn't on sale?
Lou Ann: Always make the house payment, no matter what else is happening!
Cody: There may be checks in the checkbook but that doesn't mean there's money in the bank!
Paula: Stay away from home shopping networks.
Kirby: The best money lesson: "No."
Karen: Give, give and give some more (to church, others and charities)!
What's the best money lesson your mother taught you? Leave a comment below.